Issue number 29.1 Marketing & Sales
The Cat Friendly Practice program
Published 28/03/2019
Also available in Français , Deutsch , Italiano , Português and Español
Cats and veterinary clinics may not be natural companions – indeed all veterinarians will have encountered more than a few unwilling feline patients. Paula Monroe-Aldridge briefly describes a scheme designed to make things a little less traumatic for all concerned.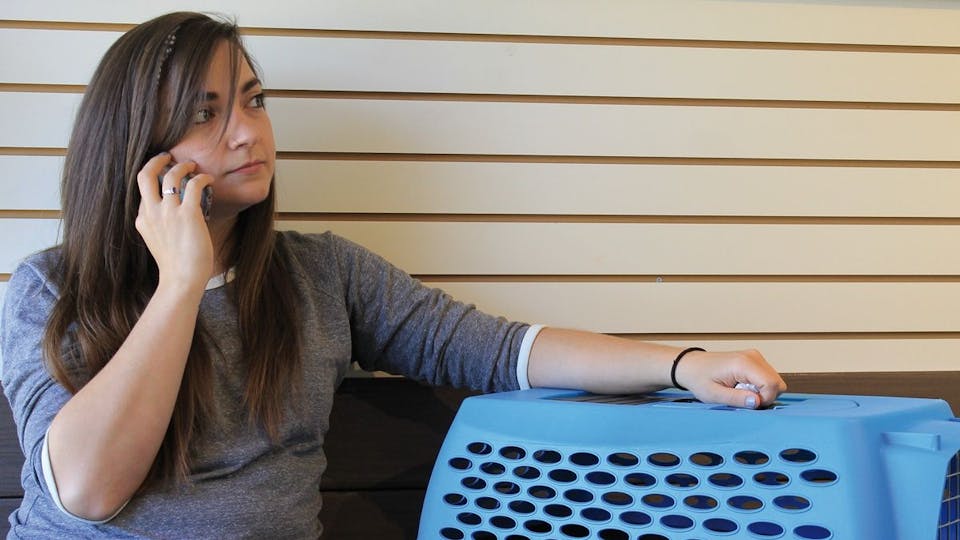 Key Points
The Cat Friendly program addresses the cat's unique behaviors and needs, and ultimately should decrease the stress of a veterinary visit for both cat and owner.
---
The worldwide scheme is becoming more popular as various benefits become evident for practices that have been designated.
---
Introduction
The Cat Friendly Practice® (CFP) program originated as a contest by the International Society of Feline Medicine (ISFM) and in 2012 was developed into a worldwide initiative involving a partnership between ISFM 1 and the American Association of Feline Practitioners (AAFP) 2. There are currently over 1200 recognized CFP's in North and South America, and the AAFP program is actively being expanded into other regions of Latin America. ISFM runs the Cat Friendly Clinic (CFC) scheme in the rest of the world, and currently has 1270 accredited clinics in total, with around 590 clinics in the UK and 324 in the rest of Europe, 77 in Australasia and 279 in Asia.
The main purpose of the program is to cater to the cat's unique behaviors and needs, and ultimately to decrease the stress of the veterinary visit for the cat as well as the cat caregiver. It also decreases the stress of the veterinary team by providing the tools and resources needed to properly manage their feline patients. According to the 2018 Cat Friendly Practice® (CFP) survey results, 88% of accredited practices reported positive team dynamic when it came to handling, treating, and caring for cats 3. All of these factors lead to better care for cats, and result in longer, happier, and healthier lives.
This global initiative to improve the feline veterinary experience for all cats is a collaborative effort that involves the entire veterinary team. A hospital located in North, Central or South America will follow the program managed by the AAFP. Hospitals located elsewhere in the world follow the ISFM's Cat Friendly Clinic program. AAFP/ISFM membership is a requirement for either program, which is provided as a member benefit.
What does the program involve?
1. Staff Training & Continuing Education | Client Communications

2. Veterinary Practice Premises | Waiting Area

3. Feline Handling & Interactions with Clients

4. Examination Room(s) | Clinical Records

5. Hospitalization & Boarding of Cats

6. Pain Management | Operating Room & Anesthesia
7. Surgical Equipment | Dentistry
8. Diagnostic Imaging | Laboratory Facilities
9. Treatment | Health & Safety

10. Feline Preventative Healthcare Individualized by Life Stages

Box 1. The ten main topics covered by the CFP.

The program is a self-assessment exercise in which practices have a list of requirements they must fulfill in order to be recognized as a CFP. Requirements address feline-specific needs within 10 main topics, as shown in Box 1 .
There are educational resources that provide in-depth information on the importance of each checklist item, and also provide creative ways to integrate them into the practice. Upon approval, the practice receives access to a marketing toolkit in order to promote their new status, as well as ongoing educational resources.
What are the benefits?
The top benefits reported by Cat Friendly Practices are less stress for feline patients, higher satisfaction among current clients, improved client retention or more requested visits by cat owner clients, increased attention and time during examinations, and a demonstration of care for feline patients. The 2018 survey 3 also showed that 93% of CFPs improved their knowledge of feline care, 83% had increased visits because they are a CFP, 79% increased revenue, 80% gained new feline patients, and 61% decreased handling injuries.
By concentrating on these feline-friendly concepts during the kitten stage of life, the clinician can create more pleasurable veterinary visits, and getting the cat to the veterinarian for recommended care later in life will be less challenging for the caregiver. The CFP program aims to help a hospital provide a more pleasant environment for cats and clients, as well as enabling the veterinary team to:
• Speak with caregivers about their new cat or kitten. The team will be able to provide clients (and even potential clients on the phone) with recommendations and resources on how to acclimate their kitten to the carrier and traveling with a kitten. They will also be able to answer common questions on behavior (e.g., "Why does my kitten act this way?" or "Why does my kitten scratch?").
• Create a less stressful environment for the patient in the waiting room (Figure 1) and the exam room. Unfamiliar smells, sounds, or unexpected interactions can be terrifying, especially for a kitten. The practice team will understand what might be frightening to a kitten and can be proactive to alleviate this stress; this can create a calmer environment for the clinical examination and a positive association with the veterinary visit. Something as simple as giving the kitten a treat can create an affirmative link and make the exam room a friendlier environment.
• Handle the kitten properly. Feline-friendly handling is key to creating a positive veterinary experience, as how the kitten is handled will set a precedent for the rest of his/her life. Respectful handling will go a long way to making future veterinary visits more relaxed for both the cat, client and the veterinary team (Figure 2) and (Figure 3).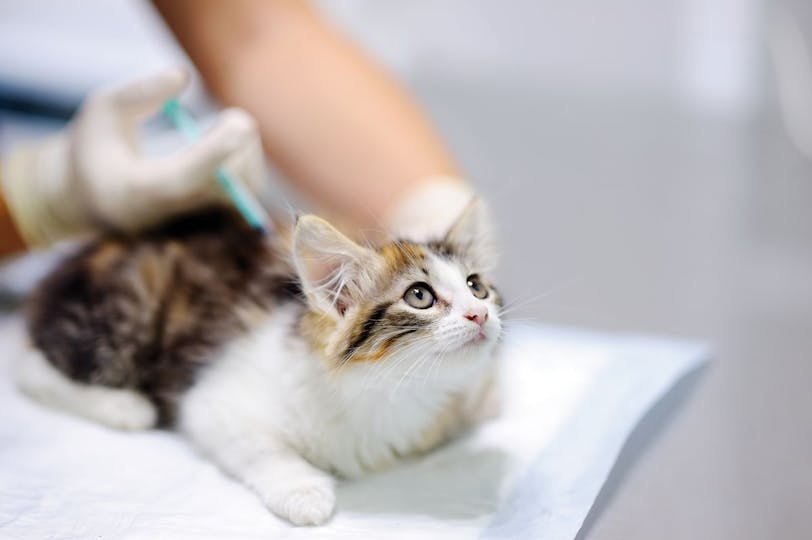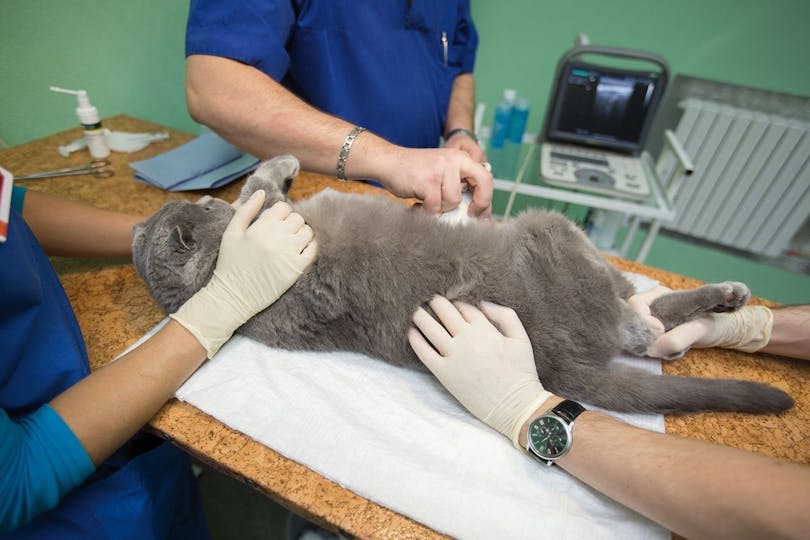 • Address specific concerns of kittens associated with hospitalization and/or boarding. If the kitten becomes ill and needs to be hospitalized, or just needs to board, making the stay as pleasant as possible will help the cat be more amenable to future stays. It is important that cats have all of their resources met, as well as the amenities they desire, in order to feel safe and secure when being hospitalized or boarded (Figure 4).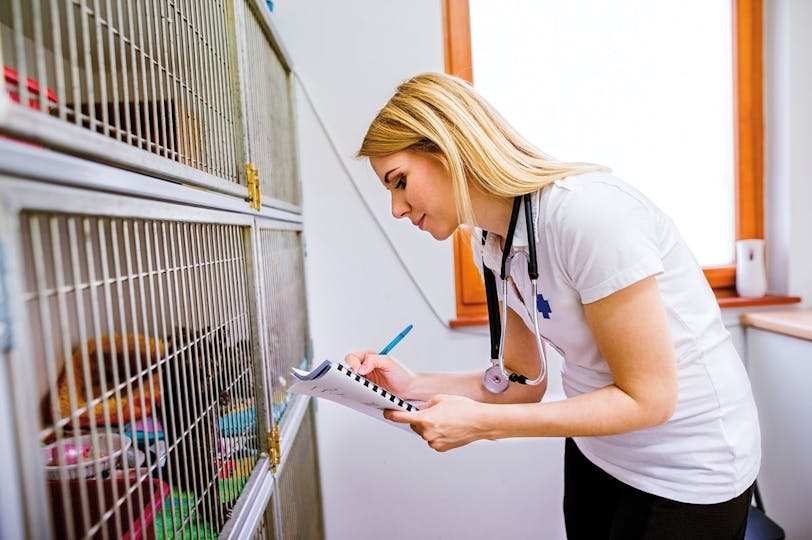 • Learn the unique needs of anesthesia and pain recognition. It is important to understand kittens have singular needs when it comes to anesthesia and pain control, especially since many kittens will be spayed or neutered. It is imperative these concerns are addressed for the safety of the young feline patient. Since cats in general are masters at hiding pain, it is important to know how to determine if a patient is in discomfort and how to address it.
• Learn about the different life stages in order to provide the very best preventative care for feline patients at all stages of their life. According to a recent study 4, 83% of kittens initially come to the veterinarian, but more than half never return. This is a sad statistic, which reveals that cat caregivers may not be aware how vital it is to continue check-ups beyond the kitten stage of life.
Cat Friendly Practices have reported many benefits from following the program. These include less stress for feline patients, higher satisfaction among current clients, improved client retention or more requested visits by cat owner clients, increased attention and time during examinations, and a demonstration of care for feline patients.
Paula Monroe-Aldridge
Concentrating on making the veterinary visit as pleasant as possible is crucial for all cats, but especially for kittens. Providing a positive experience for the kitten will gain the trust of the client, and increase the likelihood of the kitten returning as an adult. We must all work together to drive this initiative forward in our profession. We have to continue to educate both our veterinary team and cat caregivers on all stages of life, and we must provide positive, low-stress veterinary visits. All cats deserve the very best care; however, we cannot provide this care if they do not return. Becoming a Cat Friendly Practice® is a win-win-win for everybody.
References
https://catfriendlyclinic.org/ Accessed 16th November 2018
https://www.catvets.com/ Accessed 16th November 2018
https://www.catvets.com/public/PDFs/CatFriendlyPractice/2018_CFP_Survey_Results.pdf Accessed 14th December 2018
Volk JO, Felsted KE, Thomas JG, et al. Executive summary of phase 3 of the Bayer veterinary care usage study. J Am Vet Med Assoc 2014;244:799-802.
Paula Monroe-Aldridge
Dr. Monroe-Aldridge graduated from Oklahoma State University and is currently an associate veterinarian at River Trail Animal Hospital in Tulsa, Oklahoma. Read more
Other articles in this issue
Many cats are subjected to their owner's choice of feeding times and methods...
Tritrichomonas foetus in young cats
Large intestinal diarrhea is a common complaint in young cats presenting to primary care veterinary practices...
Ophthalmological conditions in kittens and young cats
Kittens and young cats are frequently presented at...
The three-step kitten consultation
Feline-only clinics are becoming more popular and cat owners will often expect a customized approach for their pet...