Early screening for feline hematuria
출간일 31/10/2019
선택 가능 언어 Français , Deutsch , Italiano , Română , Español , English 그리고 ภาษาไทย
Early screening for feline hematuria is now possible using a new product which can be added to cat litter, offering a unique tool for the management of lower urinary tract disease in cats.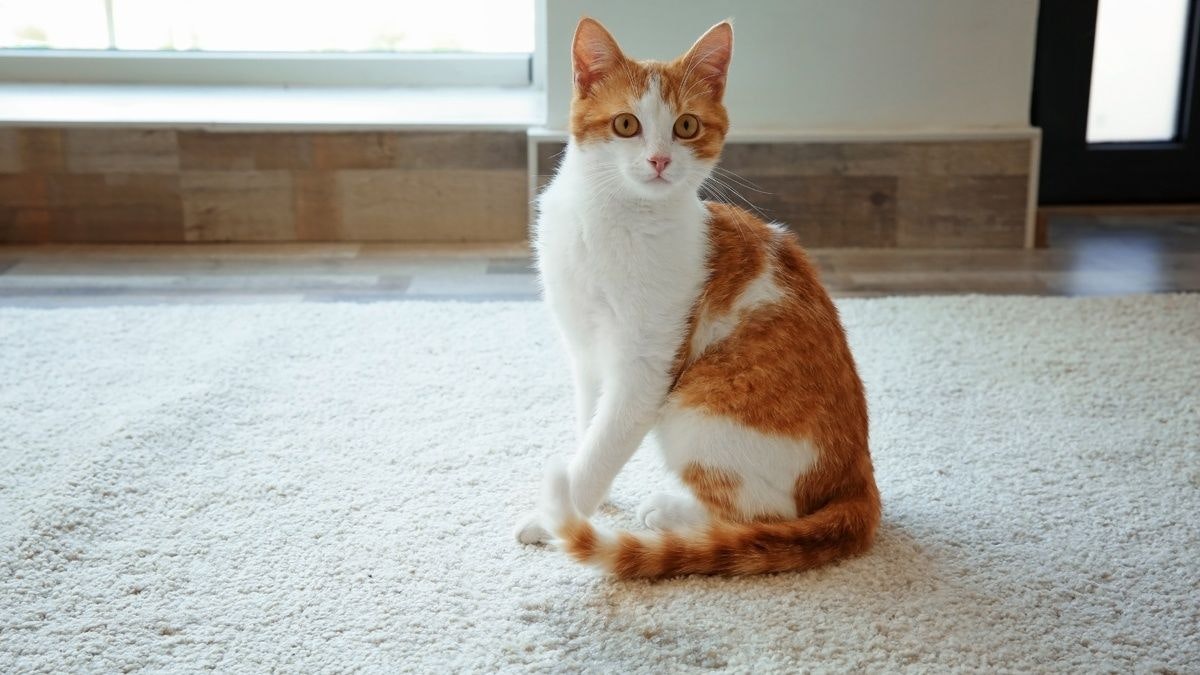 Key Points
Lower urinary tract diseases (LUTD) in cats are frequent, progressive and recurrent pathologies, but they are not always detected by owners.
---
Macroscopic or microscopic hematuria is almost always present during LUTD, which makes it a good early potential biomarker for these pathologies.
---
The Hematuria Detection screening test* can reliably and rapidly detect microhematuria and is therefore a useful tool in the management of LUTD.

* Marketed by Royal Canin as Hematuria Detection, except in Canada where it is sold as Blucare®.
---
Recent recommendations have been developed for the use of this product in managing feline urinary disorders.
---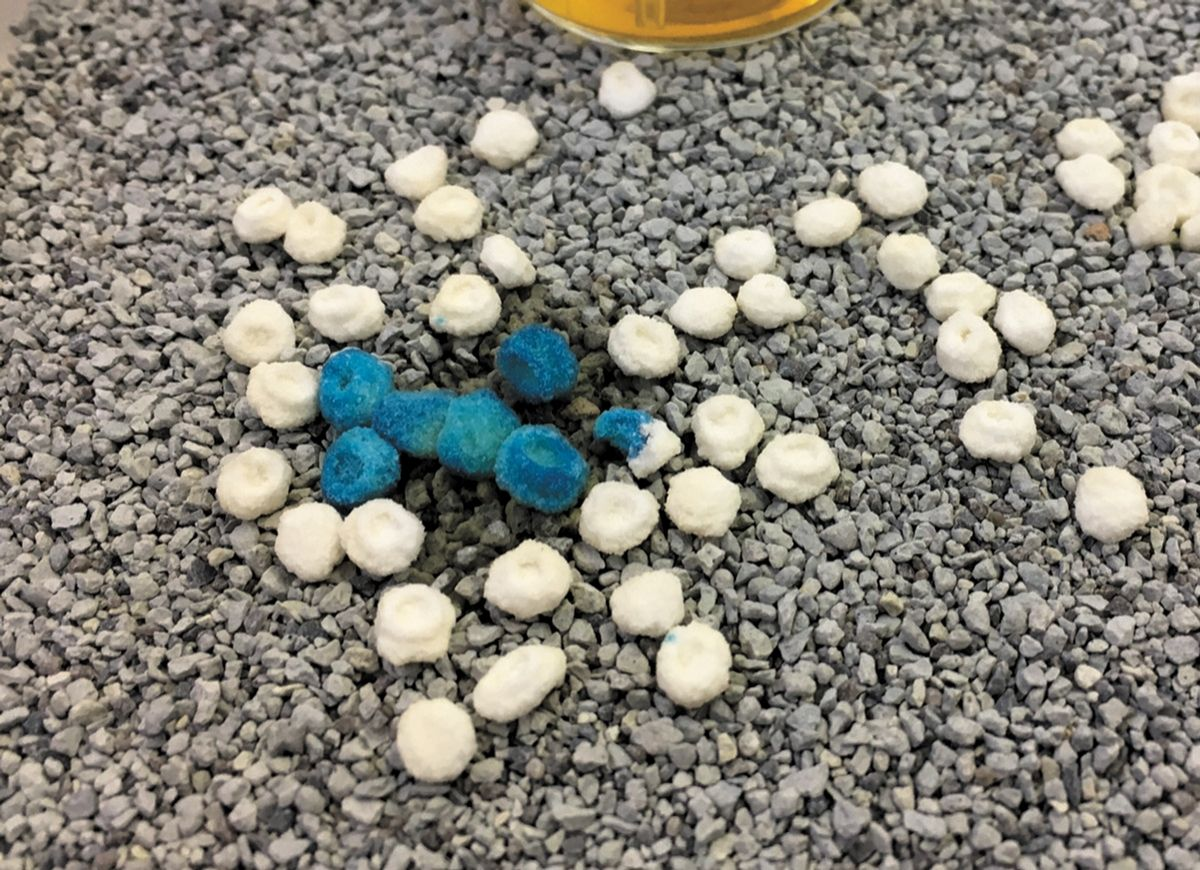 A non-invasive test to screen for feline hematuria has just been launched on the market and is now available in many countries. Easy to use and stress-free, it consists of formulated white granules which, when sprinkled onto cat litter, will quickly turn blue on contact with hemoglobin (Figure 1). The granules will detect early cases of microhematuria, i.e., before macroscopic hematuria has developed. This short paper details the relevance of this monitoring tool, the operating principle underlying the test, the product reliability studies, and possible recommendations for use when dealing with urinary disorders.
Hematuria and feline LUTD
Hematuria is defined as the presence of an abnormal number of red blood cells (RBC) in the urine: it can be microscopic (occult) or macroscopic (visible). Generally, "pathological" hematuria is defined as five or more red blood cells per field at high microscopic magnification.
Although the causes of hematuria are numerous, in cats it is perhaps most frequently encountered with lower urinary tract disease (LUTD), a frequent presentation in small animal clinics 1. The term LUTD covers a group of pathologies characterized by certain clinical signs: hematuria, dysuria, stranguria, pollakiuria and/or periuria, progressing to include various systemic signs if urethral obstruction develops.
When presented with a cat that has LUTD, the main differential diagnoses are feline idiopathic cystitis, urolithiasis, urethral plugs, and urinary tract infection 1. Lower urinary tract pathologies are subject to relapses even when appropriate treatment is administered: overall, 50% of cats that have had an LUTD episode will have a recurrence at some point 2.
Monitoring of hematuria in managing LUTD
During an episode of urinary disease, hematuria is almost always present, at least in microscopic form 1. Since cats frequently do not demonstrate obvious pain, they are often only presented to the veterinarian when the problem has advanced to a significant level, for example with a urethral blockage or following numerous episodes of periuria. However, given the frequency of recurrence of these pathologies, it seems appropriate to focus on an easy and non-invasive screening method for a biomarker such as microhematuria. Use of such a product will allow owners to monitor their pet regularly for signs of hematuria and should facilitate attendance at the veterinary clinic in the early stages of urinary disease.
Test operating principles
The Hematuria Detection test is composed of small white granules which are sprinkled on the cat litter. The granules contain 3,3', 5,5'-tetramethylbenzidine (TMB), a molecule that imparts a blue color to the granules via a pseudo-peroxidation reaction when it comes into contact with hemoglobin. The results are almost immediate; the color appears in less than a minute and remains visible for over 48 hours. The instructions for use are simple (Figure 2) and the product can be used by owners to monitor their cat for early signs of urinary disorders. The long shelf life of the product – 2 years in the sealed packaging – is also beneficial, and the granules remain reactive for 30 days when placed on the cat litter. Note that any type of cat litter can be used, but the owner will need to remove any granules soiled by urine each day because they will no longer be absorbent.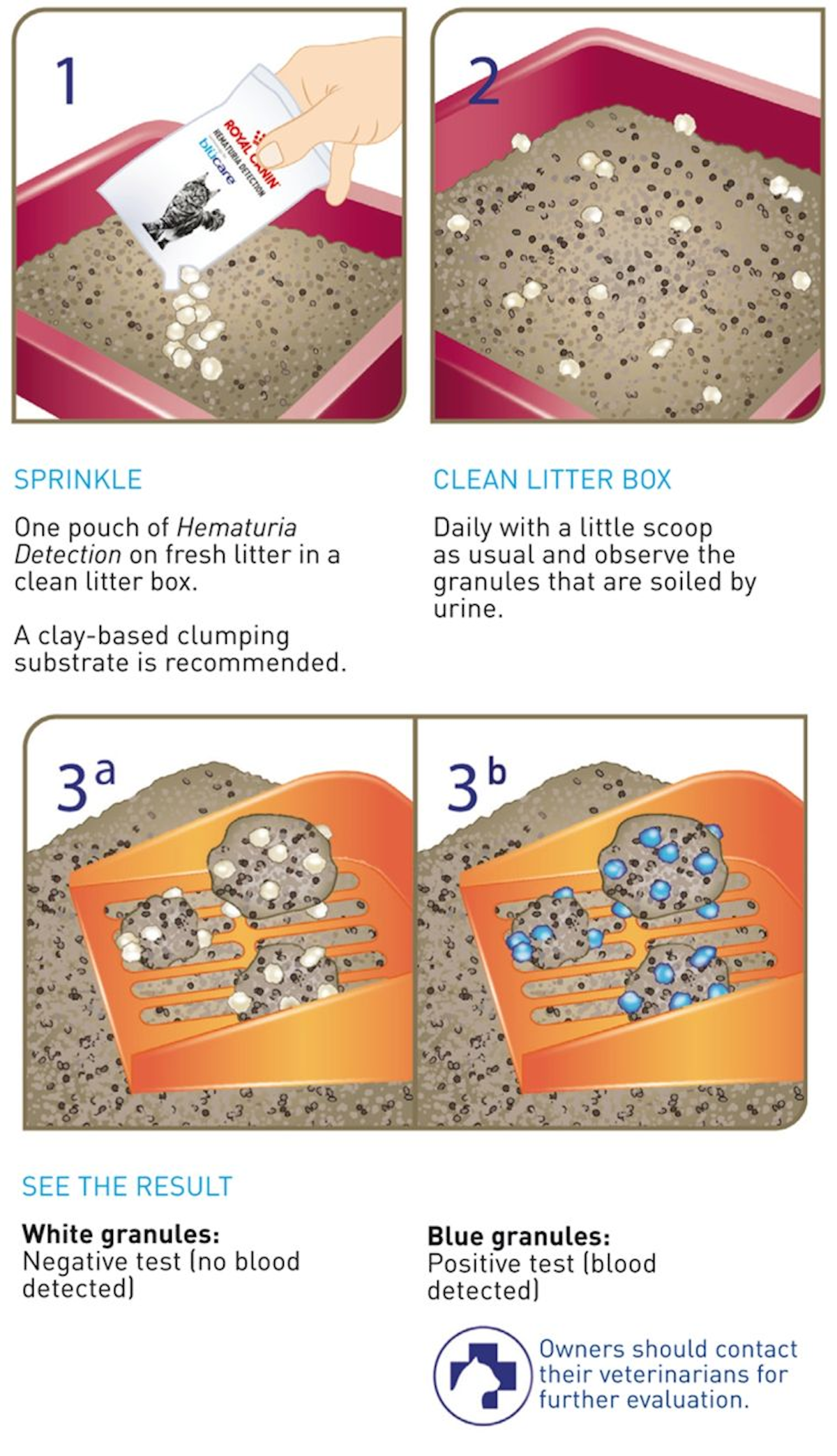 Clinical studies conducted by the University of Montreal have shown the granules to be extremely sensitive; the lowest reactivity threshold has been determined at 100 RBC/μL 3, corresponding to approximately 12 RBC/hpf (Figure 3). Studies confirm the product has good reliability, but note that sensitivity decreases if the urine pH is ≥ 8.5 and/or urine specific gravity (USG) is above 1.050 4. The toxicological risk for both animal and user is assessed as negligible to very low 5.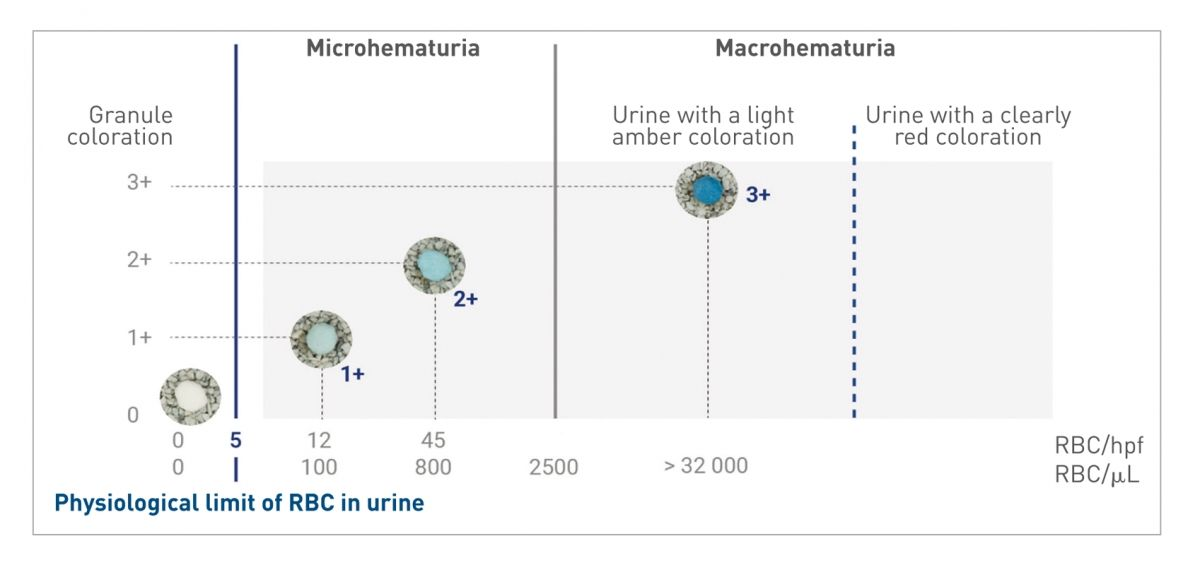 Recommendations for use
This innovative product opens up the possibility that owners can use the product on a regular basis in various situations. A group of feline specialists have drawn up recommendations for the use of the granules for monitoring acute episodes of urinary tract disease or where monitoring of urinary tract disease is required (Table 1).


Urinary tract disease (UTD) monitoring

Description
Urolithiasis (upper or lower urinary tract) or urethral plugs
Idiopathic cystitis
Urinary tract infection (upper or lower)
Diet recommendations
Specific diet
Stress reducing, urinary tract diet
Life stage or specific diet

Frequency of

Hematuria Detection

usage

Acute monitoring


Monitor resolution of hematuria during treatment

10-14 days
5-7 days
10-14 days
Immediate relapse and continuous monitoring


Monitor for immediate relapse and periodically check for relapses
Table 1. Recommendations for the screening and monitoring of cats predisposed to hematuria and cats with urinary tract disease 6.
Hematuria Detection is thought to be the only test currently on the market that can detect feline microhematuria at home, directly via the litter and without the need for urine collection. The simplicity of the product means that the granules should be a useful addition for clinicians and owners when monitoring and treating cats with various forms of LUTD.
References
Dorsch R, Remer C, Sauter-Louis C, et al. Feline lower urinary tract disease in a German cat population; a retrospective analysis of demographic data, causes and clinical signs. Tierärztliche Praxis Ausgabe K Kleintiere Heimtiere 2014;42(4):231-239.
Bartges J, Polzin DJ. Lower urinary tract disorders. In; Nephrology and Urology of Small Animals. Chichester, West Sussex, UK; Ames, Iowa: 2011 Wiley-Blackwell. p.750.
Khenifar E, del Castillo JRE, Gara-Boivin C. Ex vivo sensitivity and robustness of a novel home-screening test for feline hematuria. J Feline Med Surg 2018;20;845-859. Clinical/research abstract accepted for presentation at ISFM Congress 2018, p.854.
Khenifar E, del Castillo JRE, Gara-Boivin C. Reliability assessment of a novel home-screening test for feline hematuria, J Feline Med Surg 2018;20;845-859. Clinical/research abstract accepted for presentation at ISFM Congress 2018, p.854-855.
del Castillo JRE. Profil toxicologique des pastilles. Personal communication, November, 2017.

Scherk M, Buffington CAT, Carozza E, et al. Blücare® Granules: A novel tool for the early detection and monitoring of urinary tract disorders in cats; recommendations from an expert panel. Available at: https://www.linkedin.com/company/bl%C3%BCcare-lab/?originalSubdomain=fr Accessed Dec 15, 2018
Elodie Khenifar
Dr. Khenifar graduated from the National Veterinary School of Toulouse in 2013 and worked in both large and small animal practice for two years before moving to 더 읽기