Guillaume L. Hoareau
DVM, PhD, Dipl. ACVECC, Dipl. ECVECC
Dr. Hoareau earned his veterinary degree from the Toulouse National Veterinary School, France before completing a residency at the University of California-Davis. He is now board-certified by both the American and European Colleges of Veterinary Emergency and Critical Care, and also holds a PhD from the University of California-Davis in Integrative Pathobiology, specifically in resuscitation and hemorrhage control. He is currently a research fellow in trauma and critical illness in collaboration with the United States Air Force while continuing to care for veterinary patients.
Contributions from Guillaume L. Hoareau
Browse between the articles contributions from this author below.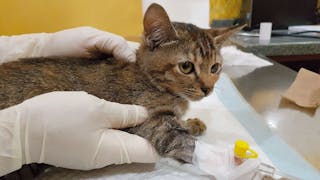 Emergency care for kittens
Kittens will frequently present as emergencies at first opinion veterinary clinics...