Julia Fritz
Dr. med. vet., Dipl. ECVCN
Dr. Fritz graduated in 2003 from the Ludwig-Maximilian University in Munich and received her doctorate in 2007 at the local Department of Animal Nutrition and Dietetics. Here she also specialized as a veterinarian and completed her residency before she received her national diploma in 2010 and the diploma of the European College of Veterinary and Comparative Nutrition in 2011. A recognized veterinary specialist for animal nutrition and dietetics, she has run "Napfcheck", an independent private practice offering nutritional advice for companion animals since 2011.
Contributions from Julia Fritz
Browse between the articles contributions from this author below.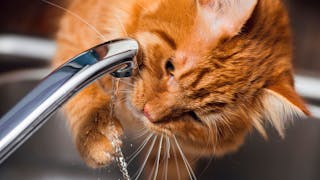 The water requirements and drinking habits of cats
Water is one of the most basic molecules in the universe...