Issue number 29.1 Other Scientific
Ophthalmological conditions in kittens and young cats
Published 23/05/2019
Also available in Français , Deutsch , Italiano , Português and Español
Kittens and young cats are frequently presented at veterinary clinics with "eye problems". In this article Thomas Large and Ben Blacklock give an overview of some of the most common — and not-so-common — conditions that may be encountered.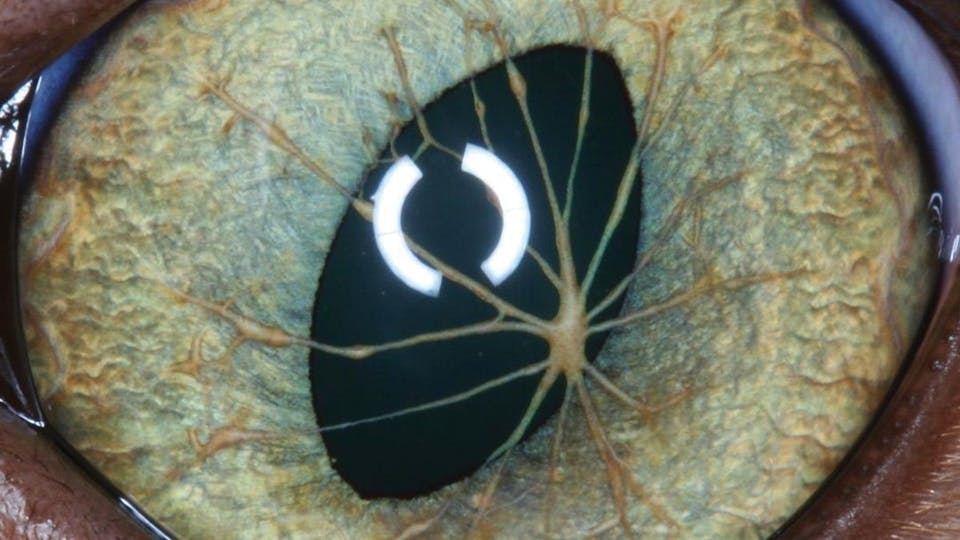 Key Points
Congenital ocular conditions can often present as multiple clinical abnormalities; therefore a thorough ocular examination is warranted in all cases.
---
Signalment, including breed and age, is especially important to consider when forming a complete "differentials list" to include congenital and hereditary causes of ocular disease.
---
PCR testing for infectious causes of ocular disease should always be interpreted in light of the clinical presentation, in order to avoid over-interpretation of results.
---
Diagnosis of infectious causes of conjunctivitis may be difficult, and trial response to therapy may be necessary as both part of treatment and diagnosis.
---
Introduction
A wide variety of ophthalmological conditions can present in kittens and young cats in practice. This article aims to review both common and uncommon clinical presentations of congenital and acquired ocular diseases to provide guidance on diagnosis and treatment. The conditions have been subdivided into those affecting different anatomical locations (Table 1) but inevitably crossover can exist, with some conditions affecting multiple ocular structures.
Globe
• Microphthalmia

Periocular tissues
• Eyelid coloboma
• Entropion
• Nictitans gland prolapse
• Epiphora
Conjunctiva
• Infectious conjunctivitis
• Neonatal ophthalmia

Corneal disease
• Dermoids

Uveal disease
• Persistent pupillary membranes
• Uveal cysts
• Lens disease

Retinal disease
• Retinal dysplasia

Table 1. Different ophthalmologic conditions in kittens.

Globe
Microphthalmia
Microphthalmia is the congenital failure of the globe to fully develop and can present as a unilateral or bilateral reduction in globe size, with signs such as enophthalmos, third eyelid protrusion and entropion 1 2. Some case reports have shown that microphthalmia may present alongside other congenital ocular abnormalities such as eyelid coloboma, corneal dermoids, choroidal coloboma and choroidal hypoplasia 1 2. If secondary disease of the cornea or discomfort is caused by concurrent abnormalities then enucleation of the affected eye(s) may be necessary 2.
Periocular tissues
Eyelid coloboma
Eyelid colobomas are a congenital maldevelopment of the eyelids, for which the underlying cause is currently unknown. The condition can be unilateral or bilateral and usually involves the upper temporal eyelid margins, with the severity of defects varying in size from small notches to a complete absence of larger sections of eyelid tissue 3. Eyelid colobomas are often reported to be associated with other ocular abnormalities of the anterior and posterior segments — such as persistent pupillary membranes, retinal dysplasia and absence of a tapetum — as part of a "colobomatous syndrome" 1. In practice, the clinical signs relating to eyelid colobomas can vary depending on the severity of the defect. Clinical signs commonly include corneal inflammation, corneal ulceration and corneal irritation secondary to corneal exposure (due to ineffective closure of the eyelids) and trichiasis from adjacent hair shafts misdirected onto the cornea 1 3. An example of an eyelid coloboma is shown in Figure 1.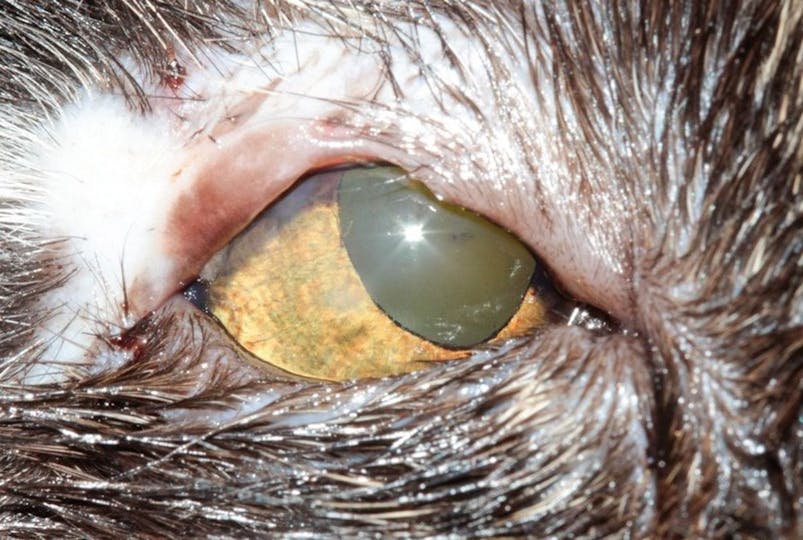 The treatment options for eyelid colobomas are predominantly surgical and focus on restoring as much of a functioning palpebral fissure as possible, as well as preventing trichiasis and further corneal irritation. For mild defects with inversion of the eyelid, a standard Hotz-Celsus procedure may be sufficient to prevent further corneal irritation from trichiasis. For larger defects several different surgical techniques are available which involve the transposition of adjacent periocular tissue to reconstruct the eyelid margin. One example, the Roberts and Bistner procedure, involves surgically dissecting a myocutaneous pedicle and transposing this from the lateral lower lid up to the lateral upper lid defect to create a new eyelid margin 4. Another procedure that has been shown to be successful in treating eyelid coloboma in cats creates a lip commissure to eyelid transposition, in which the superior and inferior lip is surgically dissected with a skin flap and rotated to create a new lateral canthus 5. An example of this can be seen in Figure 2. Eye lubricants may be helpful to protect the cornea prior to surgical correction in cases of corneal exposure or trichiasis.
Entropion
Entropion is the inappropriate infolding of either the upper or (more commonly) the lower eyelids and can cause chronic corneal irritation resulting in corneal edema, corneal ulceration, corneal pigmentation and vascularization. Primary entropion in cats occurs less frequently than in dogs and has been reported to occur more commonly in brachycephalic breeds such as the Persian 3.
FHV is characterized by recurrent episodes of rhinotracheitis, conjunctivitis, corneal ulceration and keratitis, and is incredibly common; the vast majority of cats and kittens will be exposed to FHV at some stage in their lifetime.
Thomas P. Large
Entropion can also occur secondary to blepharospasm, in which the inversion of the eyelids can become permanent 3. Therefore, in kittens the etiology may be considered primary or secondary if there is a history of a painful or inflammatory ocular condition. Surgical treatment for entropion is necessary if secondary corneal disease is present. Mild cases may not require surgical correction but regular monitoring for signs of secondary corneal disease would be sensible. The preferred surgical technique is the Hotz-Celsus procedure 6 and the post-operative results can be seen in Figure 3. A recent review evaluating 124 cats that received surgical treatment for entropion found that this procedure, combined with lateral canthus closure, had a success rate of 99.21% 6. The results of the same review report that the Hotz-Celsus procedure alone can be sufficient to correct lower eyelid entropion, however in older cats a lateral canthus closure may help prevent recurrence 6.

Nictitans gland prolapse
Prolapse of the nictitans gland has been reported in several breeds including the Burmese, Persian and domestic shorthair cats. Whilst not strictly a congenital condition, the age at presentation varies and can include kittens and young cats up to six years of age 3. Surgical replacement of the nictitans gland using the Morgan Pocket technique has been shown to be effective without recurrence in three individual cases of the breeds mentioned above 7.
Epiphora
The nasolacrimal duct in brachycephalic cats follows a more acutely angled path when compared with meso- and dolichocephalic breeds, and this can potentially obstruct the normal drainage of tears 8 9. This anatomical malformation can result in persistent epiphora, however other pathological causes of epiphora such as inflammatory, infectious or traumatic disease should be ruled out before assuming a structural cause. Persistent tear staining around the medial canthus may be seen in brachycephalic cats, and practical advice to the owner includes frequent grooming around the medial canthus and nasal skin folds to prevent secondary maceration of the periocular skin.
Conjunctiva
Infectious conjunctivitis
Conjunctivitis in young cats is a very frequent condition — indeed, it is one of the most frequent presentations of ophthalmic disease — and should be approached in a logical manner considering the more common differential diagnoses. Swelling of the conjunctiva, blepharospasm and muco-purulent ocular discharge can be seen in many cases. Whilst treatment using broad-spectrum topical antimicrobials may not be inappropriate initially, specific diseases may often persist and require more targeted therapy, as discussed below.
Several infectious causes of conjunctivitis exist in kittens and young cats, including Feline Herpes Virus (FHV), Chlamydophila felis (C. felis), Calicivirus, Mycoplasma and other bacterial infections.
Feline Herpes Virus-1 (FHV)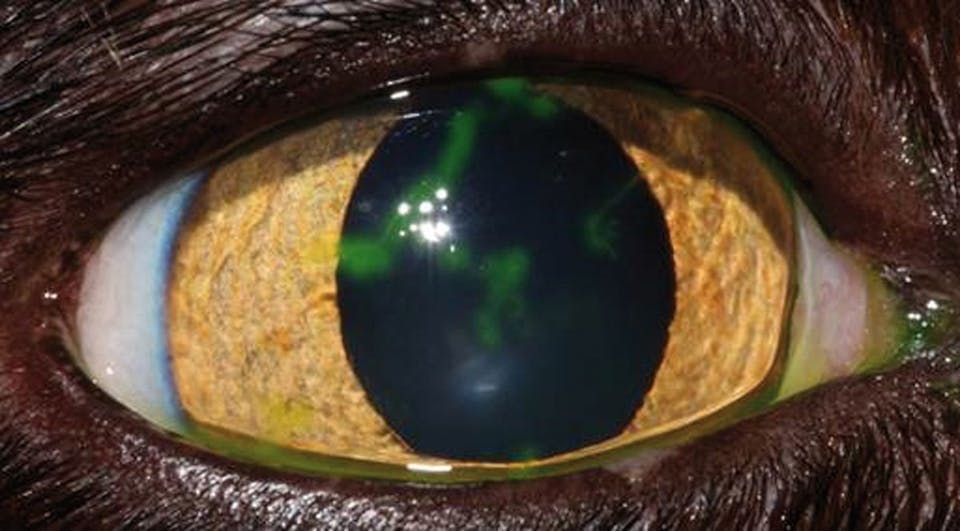 FHV is characterized by recurrent episodes of rhinotracheitis, conjunctivitis, corneal ulceration and keratitis. The vast majority (reported exposure rates of up to 97%) of cats and kittens will be exposed to FHV at some stage in their lifetime and are infected by aerosol or by direct contact with infected animals 10. FHV can track along the trigeminal nerve endings and become resident in the trigeminal ganglion, which results in over 80% of infected cats developing a latent infection. Approximately 50% of these go on to show recrudescent "flare ups" of clinical signs secondary to stress, concurrent illness or corticosteroid administration 10. Initial infection can start from around 8 weeks of age and present with rhinotracheitis, conjunctivitis, keratitis and punctate or dendritic ulcers (Figure 4) 10 11.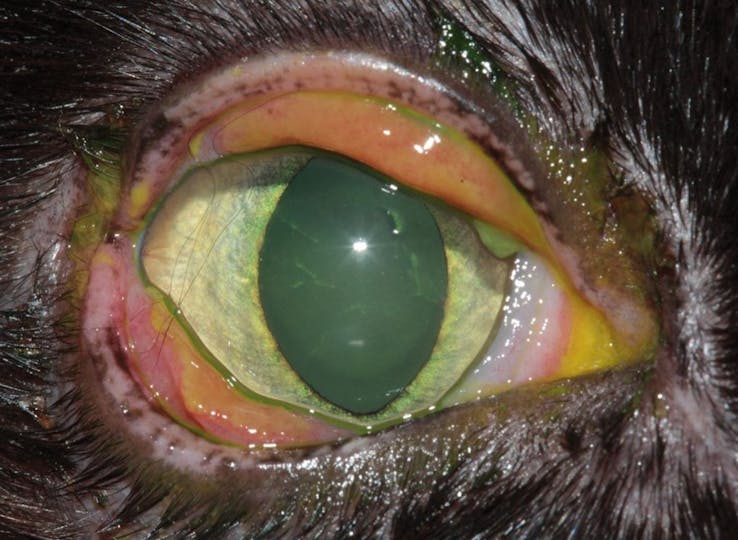 A distinguishing sign of FHV infection is the development of dendritic corneal ulcers, which can be seen as linear, "branch-like" corneal defects 12. Dendritic ulcers can usually be detected under fluorescein staining, as seen in Figure 5; smaller lesions may be more easily seen with Rose Bengal corneal stain. As the course of the disease progresses, dendritic ulcers can coalesce to form larger areas of geographic corneal ulceration 12. Symblepharon can occur as inflamed conjunctival or corneal tissue forms local adhesions, and should be broken down with gentle manipulation whenever noticed to avoid more permanent adhesions forming 3. Recrudescence of FHV often presents with similar, milder clinical signs as an acute infection but can also develop into a chronic stromal keratitis 10.
Diagnosis by PCR testing and conjunctival/corneal cytology can be considered. However, since the majority of cats have been exposed to FHV, both false positive and false negative results can occur with FHV PCR, therefore caution should be taken when interpreting results, and should always be considered in light of the clinical presentation and history 10.
Conjunctival and corneal cytology can help rule out other conditions which can present similarly, such as C. felis. Response to treatment may also be considered as an approach to diagnosis and treatment. Many mild cases of FHV recrudescence are self-limiting, and treatment may not be necessary, however when treatment is required systemic famciclovir at 90 mg/kg PO BID is recommended 13. The duration of treatment can vary depending on response, and in general should continue for a time beyond resolution of the clinical signs 13. Topical antibiotic preparations to treat possible secondary bacterial infections can also be used as an adjunctive treatment 14.
Chlamydophila felis
C. felis is an intracellular bacterial disease that can present with clinical signs of chronic unilateral or bilateral conjunctivitis and chemosis in young cats 3. It is transmitted by aerosol or contact from the environment with the pathogen. Diagnosis can be achieved via a commercial kit using special medical sampling devices1 or standard conjunctival swab sampling of the conjunctiva for cytological examination, which can show inclusion bodies within epithelial cells 14. PCR testing of conjunctival swabs can also be a sensitive test to detect the C. felis organism in infected eyes, however sensitivity decreases with chronicity and therefore may be less reliable in achieving a diagnosis in chronic cases 15. Negative cytology and PCR results do not entirely rule out C. felis, therefore treatment may sometimes be decided on clinical suspicion alone based on presentation, clinical signs and a lower suspicion of other causes of conjunctivitis (especially if no corneal ulceration is seen). Treatment consists of systemic oral doxycycline at 10 mg/kg daily for at least 28 days 16. Note that it is recommended to give doxycycline with food or a small oral fluid bolus to reduce the risk of esophageal strictures. Signs can often resolve after several days, but treatment should continue for the full course.
1 e.g., *Cytobrush® (Medscand®)
Eyelid colobomas are a congenital maldevelopment of the eyelids, of unknown etiology. The condition can be unilateral or bilateral, and usually involves the upper temporal eyelid margins.
Ben T. Blacklock
Calicivirus
Calicivirus can occasionally cause conjunctivitis in cats but is mainly associated with upper respiratory tract disease and stomatitis 17. It is spread via contact with infected animals and the environment. Calicivirus can be diagnosed using PCR testing of conjunctival swabs, although caution is advised with interpreting a positive result as this can also occur in persistently infected shedders. Conjunctivitis associated with calicivirus tends to resolve spontaneously 3.
Neonatal ophthalmia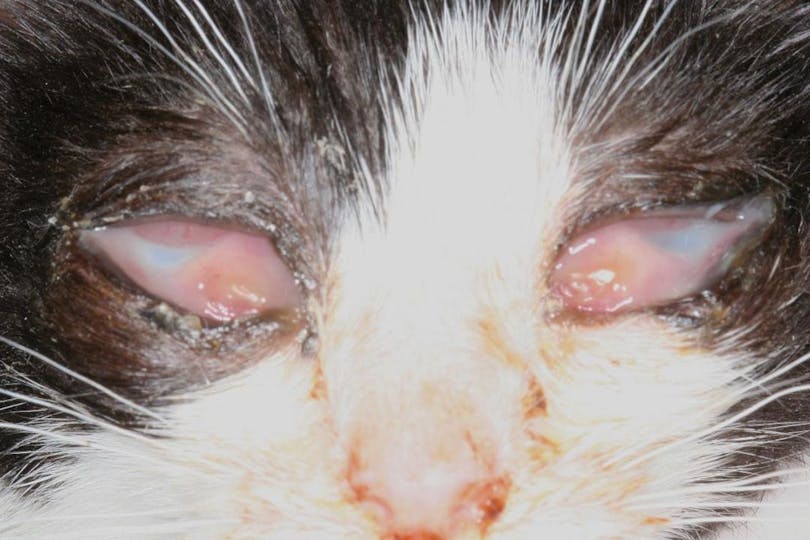 Neonatal ophthalmia is a term used to describe severe conjunctivitis in the neonatal kitten. If the eyelids are still fused by 14 days post-partum swelling of the orbit often develops, due to build-up of muco-purulent discharge (Figure 6) 3 18. Opening of the eyelids may be necessary, either by manual manipulation or sharp incision along the eyelid margin to drain mucopurulent discharge and to allow the application of topical antibiotic treatment.
Corneal disease
Dermoids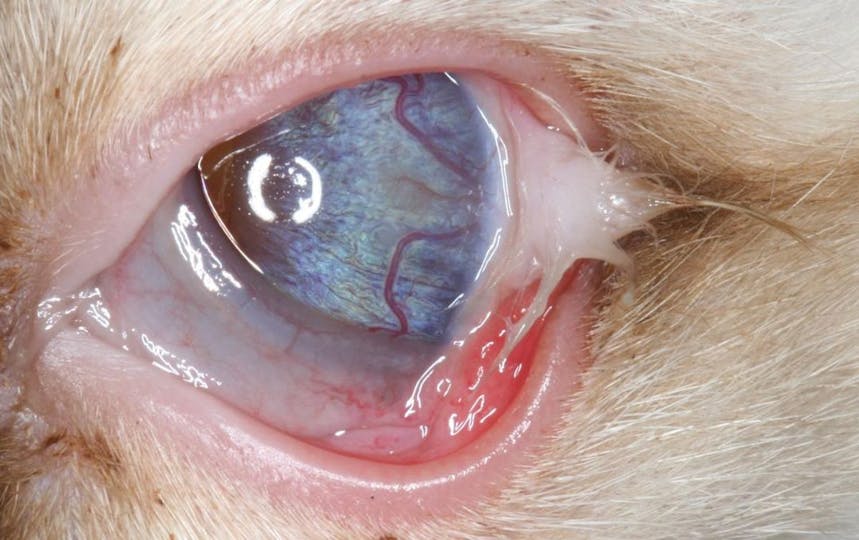 Corneal dermoids are an uncommon congenital abnormality seen in kittens. Dermoids have been reported in the Domestic Shorthair, Birman and Burmese breeds 19. They are characterized by an area of skin tissue inappropriately located on the ocular surface or closely associated structures. They have been reported to occur in several locations including the epibulbar region, lateral temporal cornea and dorsal cornea 19 20 21. Histological examination of ocular dermoids has shown them to be of a similar structure to skin, with an epidermal, subcuticular and dermal layer including sebaceous glands and hair follicles. The clinical signs associated with a dermoid can include epiphora, blepharospasm, conjunctivitis and blepharitis due to irritation of the associated ocular structures in contact with the hair shafts (Figure 7) 18.
Surgical treatment is required to remove a corneal dermoid using a superficial keratectomy procedure to excise the abnormal tissue from normal underlying tissue. The prognosis following surgery is good providing all abnormal tissue is removed.
Uveal disease
Persistent pupillary membranes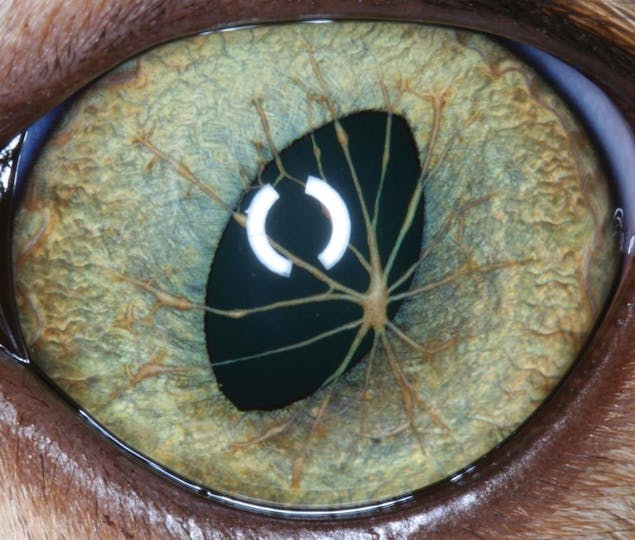 Persistent pupillary membranes (PPMs) are an embryological remnant of the tunica vaculosa lentis (the embryological blood supply to the developing lens). They occur unilaterally or bilaterally in cats and appear as fine, filamentous, pigmented attachments originating from the iris collarette (the mid region of the iris) and can attach to other ocular structures such as corneal endothelium, lens and iris, or float free in the anterior chamber (Figure 8) 22 23. In some cases where a PPM attaches to the corneal endothelium, corneal opacities can occur secondary to the PPM causing traction on the endothelium, resulting in focal corneal edema 19. Diagnosis of a PPM is based on physical examination and the differentiation of a true PPM from a synechia that could be secondary to other ocular disease. The location of the origin of the pigmented strand at the iris collarette, and a lack of other ocular abnormalities suggestive of previous ocular disease, are suggestive of a true PPM. Treatment is not usually necessary, but the treatment options, if required, include topical mydriatics and surgical transection 3.
Uveal cysts
Anterior uveal cysts are an uncommon finding in cats and may occur as a congenital defect due to the embryological failure of adhesions between the layers of the optic cup. They may also occur spontaneously or secondary to ocular injury 24 25. Uveal cysts may be seen in one or both eyes; they are usually spherical, pigmented and can present as single or multiple cysts of varying sizes at any location along the posterior pupillary margin 24. Treatment is not usually necessary for most anterior uveal cysts, however if they are large and cause secondary issues (such as obstruction of vision or increased intraocular pressure) surgery with laser photocoagulation may be considered 26.
Lens disease
Cataracts are focal or diffuse opacifications of the lens and in cats can be either congenital in origin or acquired. The cataract may be obvious on visual examination or may only be identified on careful ophthalmoscopic examination (Figure 9). In a recent retrospective case series, 15% of cats presenting for referral to a veterinary ophthalmologist for cataract assessment were suspected to be congenital in origin 27. Although seen less frequently in cats than in dogs, congenital cataracts have been reported in the Birman, Himalayan, Persian and British shorthaired breeds, and may be associated with a mode of inheritance.

Developmental cataracts have been reported following kittens that were hand-reared with a commercial milk replacer in which the kittens developed incipient cataracts that were possibly related to low serum arginine concentrations during the feeding period 28. Thus environmental factors may also play a role in cataract development from a young age during development.
Chédiak-Higashi syndrome is a hereditary autosomal recessive condition that can present with congenital cataracts as well as pale irises, photophobia, hypopigmentation of the fundus and tapetal degeneration 29.
The treatment for cataracts in cats is dependent on the severity, and phacoemulsification can be considered if a cataract is causing secondary disease 3.
Retinal disease
Retinal dysplasia
Retinal dysplasia is a congenital malformation of the normal retinal tissues. The appearance of retinal dysplasia can be characterized by folding of the retina or rosette formation. Causes of retinal dysplasia have been reported to include Feline Leukemia Virus and Feline Panleukopenia Virus, and can also be seen with other congenital ocular conditions such as eyelid colobomas and Chédiak-Higashi syndrome 3.
Presentations of congenital ocular disease in cats, whilst infrequent and often breed-specific, are important for small animal veterinarians to be familiar with. Familiarization with the appearance of different congenital ocular conditions and good ocular examination technique can greatly aid the practitioner to advise owners on prognosis and treatment options for each individual case. Good knowledge of the differentiating clinical signs of specific diseases, the specific diagnostic tests available and individual treatment options means the majority of cases are able to be managed effectively in general practice. Further information on the topics discussed in this article, including surgical procedures, can be found in the references.
References
Martin CL, Stiles J, Willis M. Feline colobomatous syndrome. Vet Comp Ophthalmol 1997;7:39-43.
Berkowski W, Langohr I, Pease A, et al. Microphthalmia, corneal dermoids, and congenital anomalies resembling Goldenhar syndrome in a cat. J Am Vet Med Assoc 2018;252(3):324-329.
Stiles J. Feline ophthalmology. In: Gelatt KN, Gilger BC, Kern TJ (eds). Veterinary Ophthalmology 5th ed. Oxford, Wiley-Blackwell; 2013;1477-1559.
Gelatt KN, Whitley RD. Surgery of the eyelids. In: Gelatt KN, Gelatt JP (eds). Veterinary Ophthalmic Surgery 1st ed. Philadelphia, Saunders Ltd; 2011;89-140.
Whittaker CJG, Wilkie DA, Simpson DJ, et al. Lip commissure to eyelid transposition for repair of feline eyelid agenesis. Vet Ophthalmol 2010;13(3):173-178.
White JS, Grundon RA, Hardman C, et al. Surgical management and outcome of lower eyelid entropion in 124 cats. Vet Ophthalmol 2012;15(4):231-235.
Chahory S, Crasta M, Trio S, et al. Three cases of prolapse of the nictitans gland in cats. Vet Ophthalmol 2004;7(6):417-419.
Breit S, Künzel W, Oppel M. The course of the nasolacrimal duct in brachycephalic cats. Anat Histol Embryol 2003;32(4):224-227.
Schlueter C, Budras KD, Ludewig E, et al. Brachycephalic feline noses: CT and anatomical study of the relationship between head conformation and the nasolacrimal drainage system. J Feline Med Surg 2009;11(11):891-900.
Gould D. Feline herpesvirus-1. J Feline Med Surg 2011;13(5):333-346.
Mitchell N, Oliver J. Feline Ophthalmology – The Manual, Grupo Asis Biomedica, S L, Zaragoza, Spain, 2015, p. 107.
Nasisse MP, Guy JS, Davidson MG, et al. Experimental ocular herpesvirus infection in the cat. Sites of virus replication, clinical features and effects of corticosteroid administration. Invest Ophthalmol Vis Sci 1989;30(8):1758-1768.
Thomasy SM, Maggs DJ. A review of antiviral drugs and other compounds with activity against feline herpesvirus type 1. Vet Ophthalmol 2016;19:119-130.
Thomasy SM, Lim CC, Reilly CM, et al. Evaluation of orally administered famciclovir in cats experimentally infected with feline herpesvirus type-1. Am J Vet Res 2011;72(1):85-95.
Sykes JE, Studdert VP, Browning GF. Comparison of the polymerase chain reaction and culture for the detection of feline Chlamydia psittaci in untreated and doxycycline-treated experimentally infected cats. J Vet Intern Med 1999;13(3):146-152.
Dean R, Harley R, Helps C, et al. Use of quantitative real-time PCR to monitor the response of Chlamydophila felis infection to doxycycline treatment. J Clin Microbiol 2005;43(4):1858-1864.
Fernandez M, Manzanilla EG, Lloret A, et al. Prevalence of feline herpesvirus-1, feline calicivirus, Chlamydophila felis and Mycoplasma felis DNA and associated risk factors in cats in Spain with upper respiratory tract disease, conjunctivitis and/or gingivostomatitis. J Feline Med Surg 2017;19(4):461-469.
Mitchell N, Oliver J. Feline Ophthalmology – The Manual, Grupo Asis Biomedica, S L, Zaragoza, Spain, 2015, p. 91-93.
Glaze MB, Acvo D. Congenital and hereditary ocular abnormalities in cats. Clin Tech Small Anim Pr 2005;20(2):74-82.
Labuc RH, Jones BR, Johnstone AC. Congenital dermoid in a cat. N Z Vet J 1985;33(9):154-155.
LoPinto AJ, Pirie CG, Huynh T, et al. Dorsally located corneal dermoid in a cat. J Feline Med Surg 2016;2(1):1-4.
Esson DW. Persistent pupillary membranes (PPM). In: Clinical Atlas of Canine and Feline Ophthalmic Disease. Chichester, John Wiley & Sons, Inc; 2015;171-173.
Mitchell N, Oliver J. Feline Ophthalmology – The Manual, Grupo Asis Biomedica, S L, Zaragoza, Spain, 2015, p. 134.
Blacklock BT, Grundon RA, Meehan M, et al. Uveal cysts in domestic cats: a retrospective evaluation of thirty-six cases. Vet Ophthalmol 2016;19:56-60.
Cook CS. Ocular embryology and congenital malformations. In: Gelatt KN, Gilger BC, Kern TJ, (eds). Veterinary Ophthalmology 5th ed. Oxford, Wiley-Blackwell; 2013;3-38.
Gemensky-Metzler AJ, Wilkie DA, Cook CS. The use of semiconductor diode laser for deflation and coagulation of anterior uveal cysts in dogs, cats and horses: a report of 20 cases. Vet Ophthalmol 2004;7(5):360-368.
Guyonnet A, Donzel E, Bourguet A, et al. Epidemiology and clinical presentation of feline cataracts in France: A retrospective study of 268 cases. Vet Ophthalmol 2018;00:1-9.
Remillard RL, Pickett JP, Thatcher CD, et al. Comparison of kittens fed queen's milk with those fed milk replacers. Am J Vet Res 1993; 54(6):901-907.
Collier LL, Bryan GM, Prieur DJ. Ocular manifestations of the Chédiak-Higashi syndrome in four species of animals. J Am Vet Med Assoc 1979;175(6):587-590.
Thomas P. Large
Thomas Large graduated from the University of Nottingham School of Veterinary Medicine and Science in 2015 and has been a practicing small animal veterinary Read more
Ben T. Blacklock
Ben Blacklock graduated from the University of Bristol in 2009 and spent his early years in a busy mixed practice in Lancashire. Read more
Other articles in this issue
Many cats are subjected to their owner's choice of feeding times and methods...
Tritrichomonas foetus in young cats
Large intestinal diarrhea is a common complaint in young cats presenting to primary care veterinary practices...
The three-step kitten consultation
Feline-only clinics are becoming more popular and cat owners will often expect a customized approach for their pet...
Feline infectious peritonitis
Amongst the many feline viruses, the agent that causes FIP is perhaps the most...