Issue number 7 Marketing & Sales
COVID-19: The telemedicine solution
Published 23/04/2020
Also available in Français , Deutsch , Italiano , Română and Español
The COVID-19 outbreak has meant that most veterinarians are having to consider telemedicine as a means of minimizing face-to-face contact with clients; this paper describes how the service can benefit both the clinic and its patients.
Key Points
Telemedicine has been around for some time, but the recent COVID-19 pandemic has meant that many clinics are now starting to use video consultations for the first time.
---
A dedicated video platform is to be preferred to enable delivery of a truly professional service.
---
A proactive approach to marketing the video consultation will help raise client awareness of the service.
---
Clients' expectations are changing, and telemedicine may become a major part of veterinary services in the months and years ahead.
---
The author expresses her thanks to Philippe Baralon, Antje Blättner and Pere Mercader for their contribution to this article.
Introduction
Video consultations have very quickly become "front of mind" for the veterinary profession over the last few weeks due to the coronavirus outbreak. While there remains significant variation in levels of use between countries (for example, the UK has adopted the technology at a faster rate than other European states (Figure 1)), it is a solution that many clinics had already begun to seriously consider utilizing prior to the coronavirus pandemic. However, there remains a wide variation in legislation and regulation between countries regarding video consultations. In some, the use of telemedicine is forbidden; for example the French Veterinary Chamber is currently lobbying the national government to create emergency legislation which will allow video consultations during the coronavirus outbreak. In the UK existing restrictions on the right of the veterinarian to prescribe remotely have been relaxed by the governing body, the Royal College of Veterinary Surgeons*, stating that "remote prescribing of POM-V medicines should be permitted where it is appropriate to do so".
*https://www.rcvs.org.uk/setting-standards/advice-and-guidance/coronavirus-covid-19/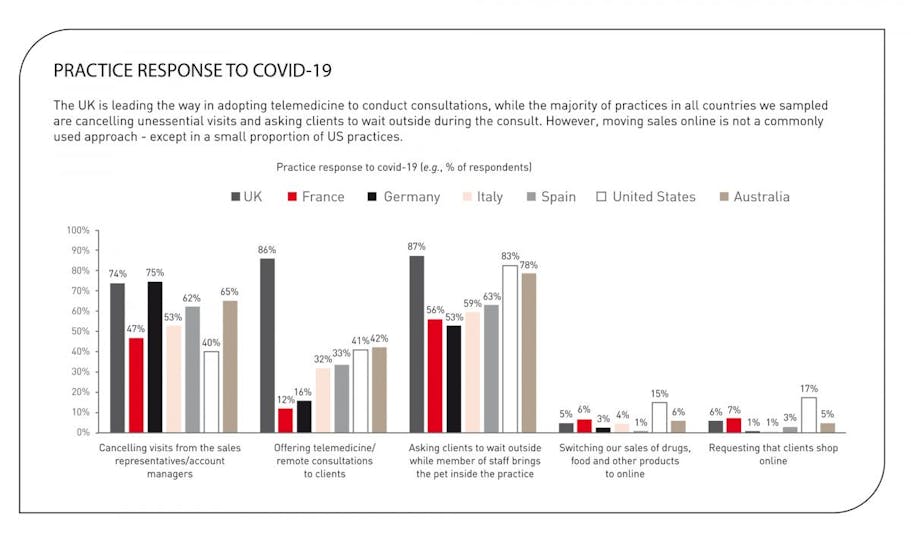 Why telemedicine?
Running remote consultations during the COVID-19 pandemic through a video platform that can also collect payment means that a veterinary practice can continue to generate revenue during the lockdown period when only essential travel is mandated. It also has huge implications for animal welfare and offers peace of mind for pet owners during the outbreak.
Importantly, video consultations also allow veterinary staff that are vulnerable and therefore advised to self-isolate to continue to work from home, whilst pet owners who may not be able to leave their house for whatever reason can also access veterinary advice and care.
Video consultations allow veterinary practitioners to keep human contact to an absolute minimum; face-to-face interactions can largely be replaced with video, payments can be collected through the consultation platform, and – following the remote consultation – where necessary animals can be easily transferred between owners and practitioners whilst abiding by social distancing recommendations. In transferring the animal, the risk is restricted to the animal acting as a fomite, and is similar to the risk of virus transmission on other surfaces, such as when receiving a parcel. Although there have been a few reports of animals being infected with COVID-19, to-date these have been isolated and the World Health Organization (WHO)* currently reports that there is no evidence that a dog or cat can transmit the disease to a human.
*https://www.who.int/news-room/q-a-detail/q-a-coronaviruses
Telemedicine offers a number of advantages over a telephone consultation. Communication is more effective, as the owner can see the veterinary surgeon, their facial expressions and body language. Importantly, the clinician is able to see the pet behaving normally in its own home. The nature of a video call means that the veterinarian can direct the pet owner in achieving a suitable picture that will allow them to get the best possible view, asking them to change the angle of the camera, improve the lighting, or alter the part of the animal they are focused on. This real-time interaction makes it a more productive channel than a telephone conversation, even when a phone call is combined with asking owners to send in their own video or photos of their pets.
When to use telemedicine
Veterinarians around the world are having to make rapid decisions about how best to incorporate telemedicine into their processes during the COVID-19 pandemic, including which platform to use and how best to run consultations. Because video consultations can be highly beneficial in the context of human health, public health and animal welfare, it is advisable to utilize them as the preferred method of interacting with clients whenever possible. Veterinarians can use video for a range of consultation types including triage, first opinion examinations, repeat prescription checks, nurse clinics, post-surgical reviews and behavioral advice clinics. Some veterinary clinics have also been using video consultations to allow owners of inpatients to see their pet whilst hospitalized.
Platform choice
It is possible to use non-specialist platforms such as Zoom, WhatsApp or Facetime for video consultations, but there are several disadvantages with such platforms. Not least is the fact that the veterinary surgeon often needs to share their contact details with the client, who could then attempt to contact them using the platform at a later, and possibly inconvenient, time and date. In addition, taking payment with these platforms requires a separate process, usually involving debit or credit card details being shared over the telephone. As veterinary staff are used to linking payment with hands-on examinations, they may feel awkward asking for payment for the clinician's time in the absence of a physical examination. Utilizing a platform which automatically facilitates payment from the client within the application, prior to a video appointment, can therefore result in a stronger ratio of paid verses free consultations.
Other advantages of using a specialist veterinary platform include creating appointment slots which can be made available for public booking, as well as the option of offering individual appointments for a client at specific times with a pre-selected veterinarian. This can provide the flexibility of charging different prices for different consultation types, or not charging at all for certain consultations such as free post-operative checks. Some veterinary clinics choose to use a combined approach, whilst others prefer to use purely private invitations. In terms of minimizing friction and making the client experience as stress-free as possible, it can make sense to offer appointments for public booking, but given the speed of introduction of this service to veterinary practices it is understandable that some clinics may wish to control as much of the process as possible. Importantly, this article will not recommend specific video platforms, as their availability may vary from country to country.
Involving and training the team
It is self-evident that there are significant limitations as to what can be achieved in terms of veterinary diagnosis and treatment over a video link. Exploring as a team ideas and suggestions for a policy on what may and may not be safely diagnosed or treated remotely may help to build confidence as to how the tool can be used. It is useful to plan the interplay between video consultations and any subsequent in-person care that is necessary. Helping the team to understand the value that a video consultation delivers – in terms of history taking and initial advice – is critical, even if a client is subsequently advised at the end of the video consultation that they need to bring their pet in to the clinic. It is also worth considering the various factors that will ensure a successful video consultation, as shown in (Box 1).
Box 1. Tips and tricks for a successful video consultation.
Ensure you are dressed appropriately to clearly communicate your role to the client; a clean uniform and neat appearance can help achieve this.
Test your Wi-Fi before the video call.
Check that your computer, tablet or smartphone has permission to use the microphone and camera.
Test the software in advance; it is often necessary to upgrade operating systems or browsers to be able to utilize the platform effectively.
Good lighting will make it easier for your client to see you properly and thus easier for you to communicate with them. Good lighting in the client's home is also to be recommended.
Advise the owner prior to the consultation to keep the animal restrained on a lead or in a room where there is nowhere to hide!
Keep a soft toy dog and cat nearby during the consultation; these can be useful to demonstrate to an owner how you wish them to hold their pet or if you want them to show you a particular area in more detail.
Clients should be advised to use smartphones rather than laptops if at all possible; this makes it much easier for them to get the required view of the pet.
The veterinarian should ideally use a laptop with a large screen; this makes for a better quality picture and makes it easier for the clinician to get a good view of the pet.
Ensure owners are warned of the limitations of any diagnosis by necessity without a physical examination.
Always record this advice, plus full clinical notes, on the Practice Management System after the consultation.
Introducing video consultations to the client
A pricing policy for video consultations must be agreed before the service is introduced. During the COVID-19 outbreak, where much of the day-to-day business of the practice will be conducted via video consultations, charging normal clinic fees makes commercial sense. The veterinary staff are investing their time in the usual way, and if the problem is resolved entirely via video the outcome is as valuable as usual for the owner. Should the client need to subsequently bring their pet into the clinic, the cost can be adjusted at this point, if appropriate, by undertaking the physical examination at a reduced cost or for no fee.
Veterinarians around the world are having to make rapid decisions about how best to incorporate telemedicine into their processes during the COVID-19 pandemic, including which platform to use and how best to run consultations.
Susie Samuel
Client communications about the availability of online consultations is another important step in the successful implementation of telemedicine. If clients are unaware of the service during the outbreak, it is likely that many will jump to the conclusion that veterinary care is not on offer, particularly in countries like the UK where veterinarians have not been identified by the government as "key workers". If clients assume that veterinary care is unavailable this can lead to negative outcomes, as they may try to solve a problem themselves using online forums or self-help videos, rather than seeking expert advice.
Training the reception team so that they understand and feel comfortable with the role of video consultations is another important step. This should ensure that the option of remote consultations is offered to clients by all members of the team whenever appropriate, and will dramatically increase the number of video consultations per day.
A proactive approach may be the best option. An email sent to all clients is the first, most obvious step to promote the service, asking them to register on the clinic's chosen video consultation platform. Social media posts should also be used, adopting a "drip-feed" approach, whereby reminders are posted regularly; these can be made more visually appealing by including simple graphics which can be easily made using online services such as Canva*.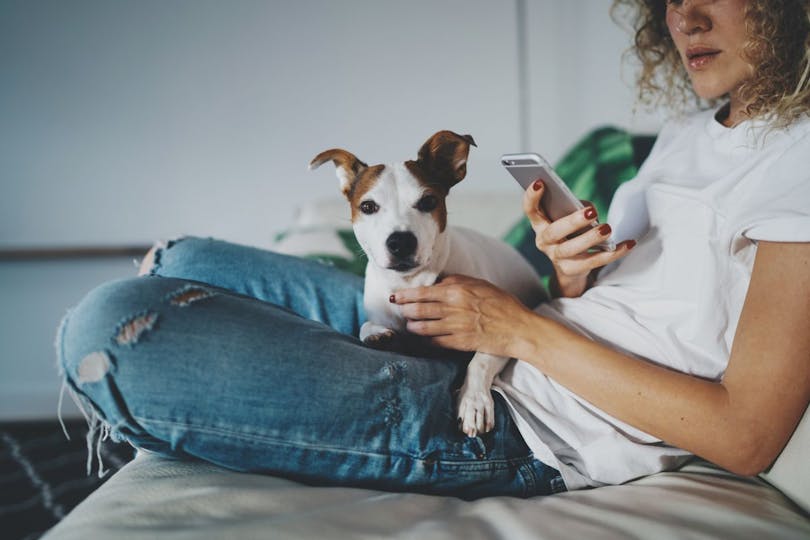 Photographs and stories of veterinarians consulting via video can also provide helpful and engaging reminders of the service (Figure 2). Paid advertisements on social media can be useful in some instances to ensure that the posts are seen by as many clients as possible, by targeting people who already "like" the practice Facebook page. Focused marketing can also be used to ensure that visitors to the practice website are also reached. Ensure the service is profiled with clear links from the practice website. Blogs or vlogs (video blogs) can be used to illustrate the use of videos, with stories (appropriately anonymized) about cases successfully treated via telemedicine. Getting the word out will ultimately benefit both the clinic and the client, and ensure improved animal welfare.
Beyond COVID-19
Box 2.
Owners may cite many reasons why visiting a veterinary practice can be quite challenging.
"The staff don't understand me"
"Parking can be difficult"
"My pet gets stressed"
"They have poor phone communication"
"Waiting at the vets"
"Climbing the stairs"
"Carrying my pet"
"Finding a suitable appointment time"
"Transport isn't easy"
Client expectations are changing rapidly. The VetsDigital biannual survey shows an interesting example of this by tracking pet owners' expectations for shortened response times to questions posed over social media over the last five years (Figure 3). Clients generally expect more instant access to services; remember that our clients are consumers in other areas of their lives and have become used to easy access to products and services without leaving their home via Amazon Prime, Netflix and entertainment on-demand, and increasingly they are becoming accustomed to video consultations with their doctor. Our evidence suggests that visiting the veterinary practice can be quite challenging for many owners (Box 2). As client expectations continue to change rapidly, those veterinary clinics that meet those expectations will thrive, whilst those that do not risk being left behind.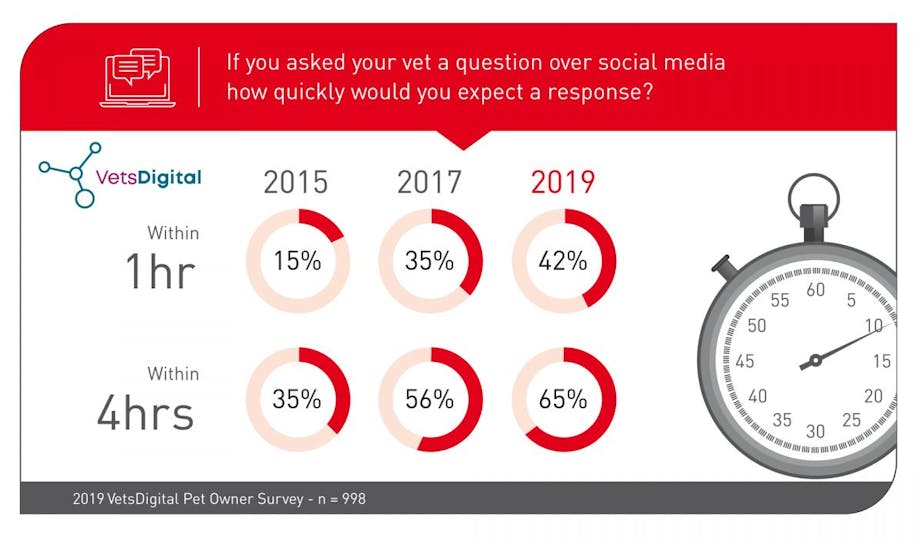 Perhaps recognizing this shift in client expectations, the last 3-4 years has seen the emergence of a variety of video platforms in many countries that offer consultations with veterinarians via video link. These services have grown in popularity with pet owners, particularly as they have also been adopted by pet insurance companies and offered free-of-charge to their customers. These services have the potential to open up an access point to veterinary care for those that might otherwise not access it at all, but this trend has caused concern to local veterinary clinics who see some of their "easier" consultations disappearing to these on-line services. Another challenge stems from the fact that remote video services provided to animals that are not under the care of the consulting veterinarian are more limited in what they can achieve. For example, in the UK, it is currently not permitted for veterinarians to provide prescription-only medicines (POMs) to an animal who is not under their care. When video consultation technology is put into the hands of local veterinarians it becomes a tool with far more scope to benefit the animal. Veterinarians in many countries (including the UK) can prescribe POMs if the animal has been seen recently enough. They can also perform follow-up consultations and post-operative checks that would be impossible for a third-party remote veterinarian. Additionally, when a local clinic performs triage or a first opinion consultation via video they are collecting a history that will be utilized should the pet need to come in for a physical examination, rather than the history having to be taken again at the practice. The video consult can also be used to provide relevant information to the owner on when their pet needs to come in for physical examination, and advise on any further requirements for a successful visit to the practice, such as asking the client to bring a urine sample from their pet.
Lastly, evidence also suggests that although pet owners would like to have the option of seeing a veterinarian via video, a far greater number of pet owners would use this option if they were able to see their own veterinarian rather than a non-specific clinician or generic organization (Figure 4).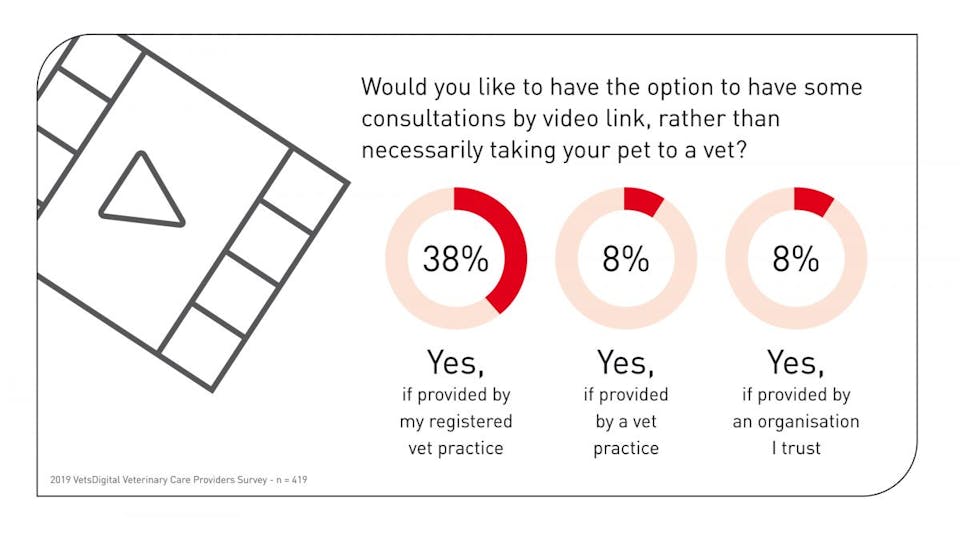 The COVID-19 pandemic has hastened the introduction of telemedicine into veterinary practices around the globe. Done properly, video consultation can help maintain the financial viability of a clinic, protect the health of both clients and veterinary staff, and be of major benefit to our pets. Veterinarians should recognize the necessity of offering such a service and ensure that they can deliver it in a professional and caring manner.
Susie Samuel
Dr. Samuel graduated from Cambridge University in 2001 and spent ten years working in both mixed and small animal practices. Read more
Other articles in this issue
COVID-19: putting the team first
Veterinary practice is being challenged as never before with the COVID-19 pandemic...
Financial strategy to recover from COVID-19
Unique problems may require unique solutions, but to survive during the COVID-19 pandemic...
COVID-19: Intensive Financial Care
Key to financial survival during the virus pandemic is having a basic understanding of the economics...
Living with compassion fatigue
Healthy pets need healthy veterinarians, but a caring profession can take a huge toll on the carers...