Issue number 7 Human Resources
COVID-19: putting the team first
Published 28/05/2020
Also available in Français , Deutsch , Italiano , Polski and Español
Veterinary practice is being challenged as never before with the COVID-19 pandemic; this article outlines steps to consider which can help the team and the business successfully meet the challenges presented by the crisis.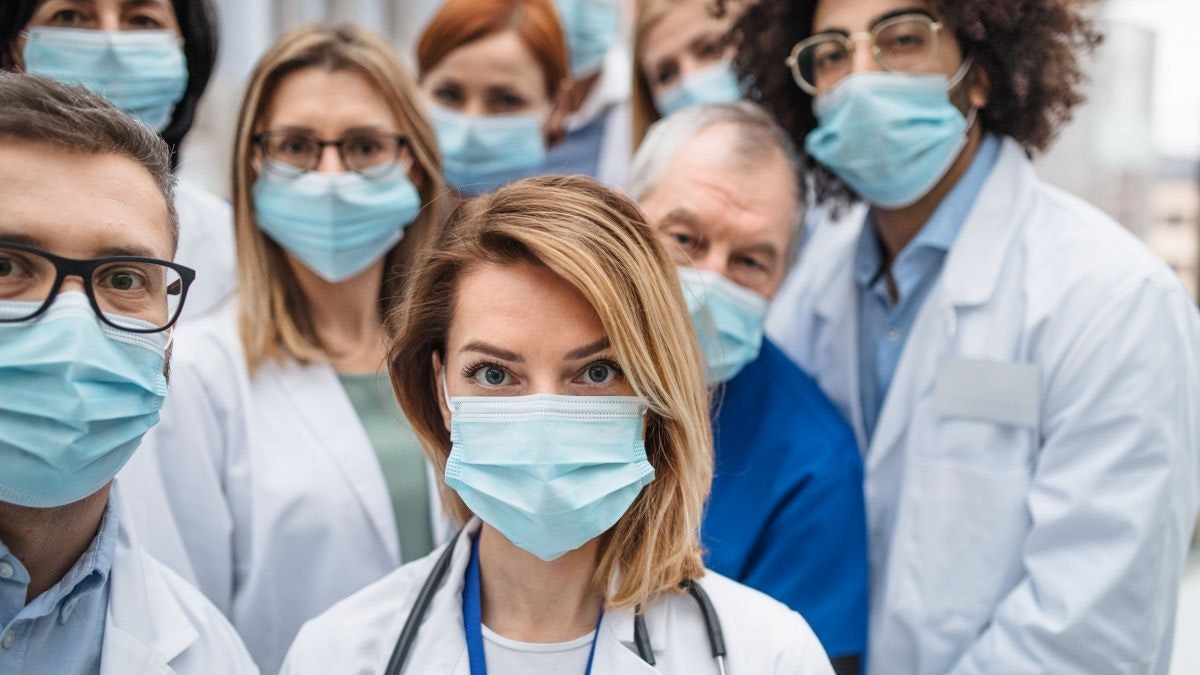 Key Points
The COVID-19 crisis means that good leadership is now more important than ever in veterinary practice.
---
Safety of individuals within the team – both from a physical and emotional point of view – is paramount.
---
It will be necessary to disrupt and adapt the team's daily routine, but this must be done carefully and thoughtfully, and good communication is essential.
---
Encourage team members to think laterally in order to seek solutions to problems raised by the pandemic.
---
The author expresses her thanks to Philippe Baralon, Pere Mercader and Susie Samuel for their contribution to this article.
Introduction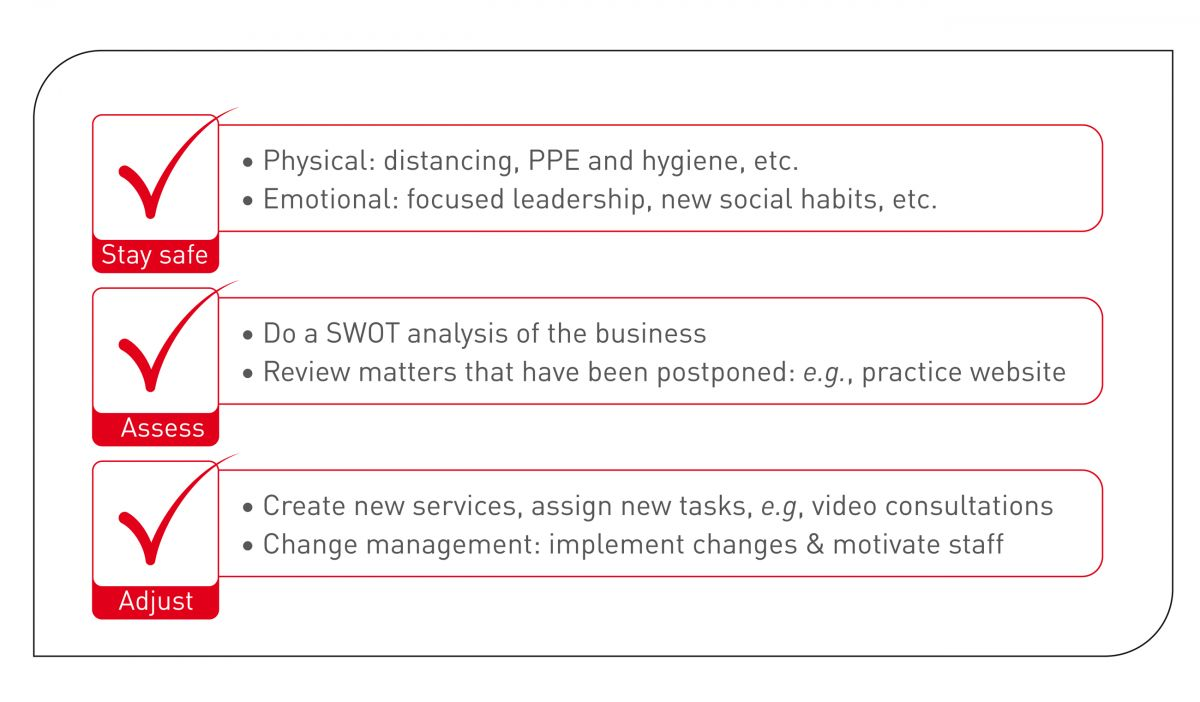 In times of crisis, good leadership becomes even more important than when you and your team are sailing in smooth waters. When the going gets rough, your staff will expect more from their boss; they will look to you to keep them safe, to give them clear guidance and direction, and to prioritize the tasks to be done. With the current threat of COVID-19 it is now essential to approach the pandemic as a team; by taking care of each other you can take care of your clients during the pandemic and maintain a functioning clinic, both during and after the crisis (Figure 1).
People safety – physical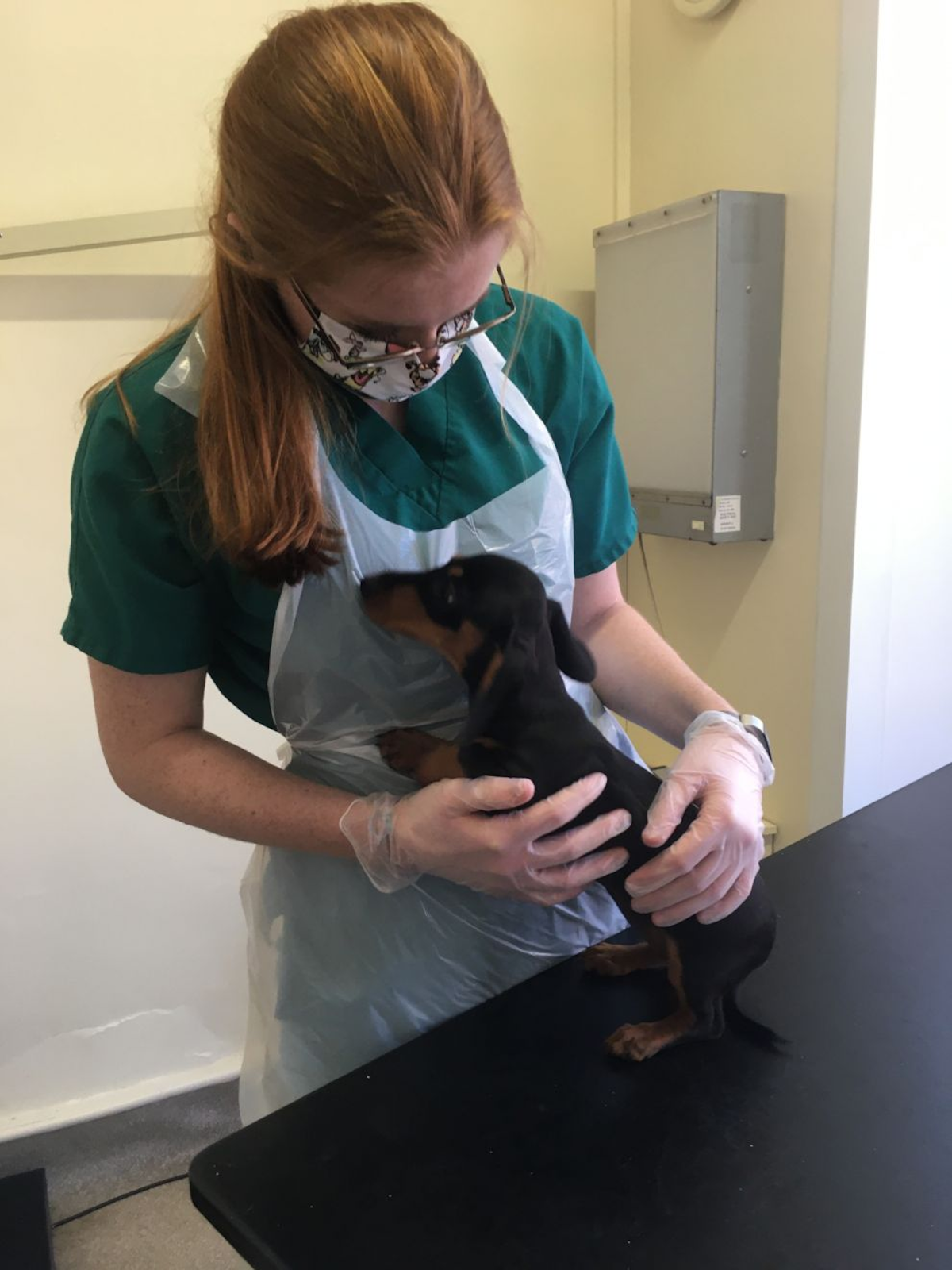 The first and most important issue is to keep the entire team safe from a physical point of view. This means that the clinic must be reorganized according to national rules and WHO guidelines, and it is advisable to check the relevant government department's website on a regular basis for updates. Methods for keeping the team safe can include the following basic measures:
creating as much distance as possible between people – whether they are staff members, pet owners or delivery personnel;
having separate outfits for the clinic and at home;
wearing facemasks during work and in public places (Figure 2);
setting up transparent screens as a barrier between personnel and clients, e.g., at the front desk;
avoiding handshakes and other close personal contact.
If you have staff members that have underlying existing health conditions, or who are pregnant, you should again check with local and national governmental guidelines in order to find ways in which they can distance themselves from pet owners and the rest of the team. Remember that these individuals do not necessarily have to stop working. It may be possible to allocate them to jobs that minimize contact, such as telephone services, telemedicine consultations, or website and social media maintenance. These are often tasks which can be done at home, assuming the necessary digital devices and good Internet connections are available. A considered overall view of the practice will help identify which jobs require a physical presence in the clinic, and which tasks (possibly including new services) can be achieved remotely – and it can be helpful to "think outside the box" and look for innovative solutions in certain areas.
People safety – emotional
The next issue to address is the emotional welfare of you and your team. This can be assisted by developing daily habits which will give each other strength and help keep motivation high. A team will always have a mixture of individuals, each with their own character, and these can be broadly categorized as follows:
Some will be quite resilient and can cope quite well under stress.
Some will appear tough but are actually quite sensitive when under pressure.
Some will be (very) sensitive to stressful situations.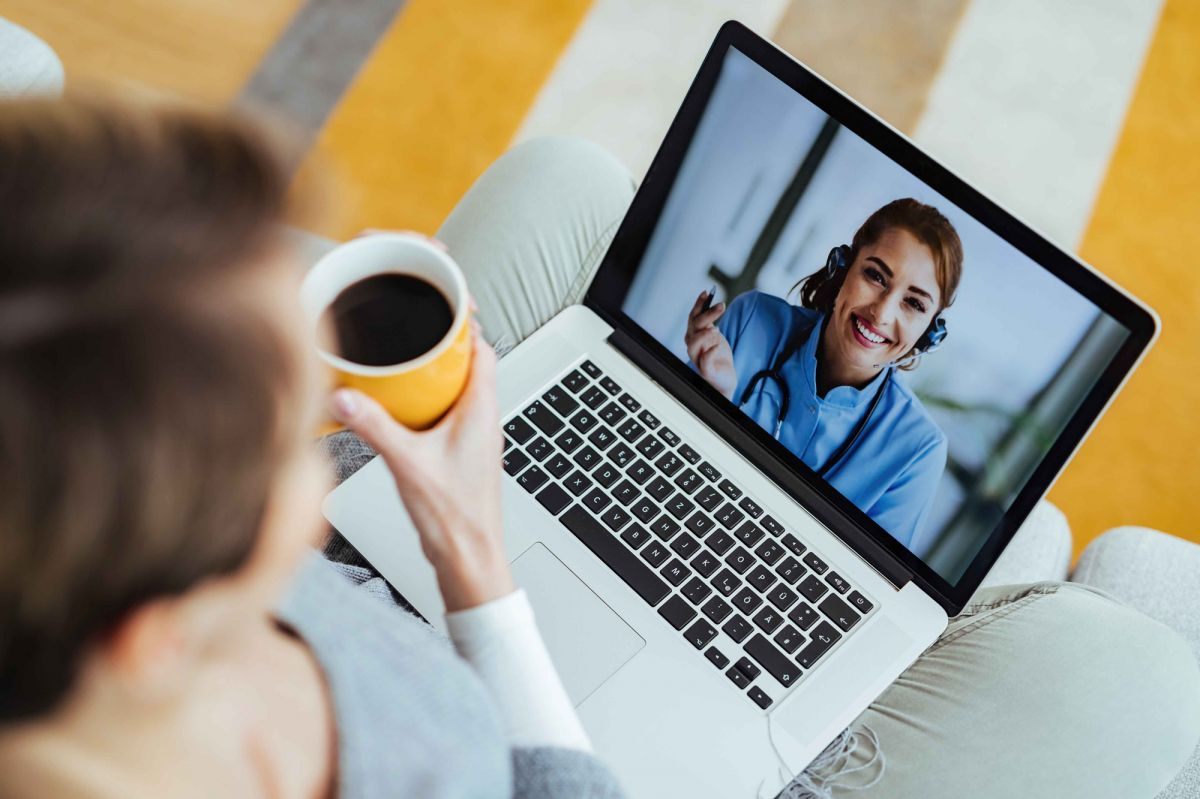 No matter what sort of people you have in the team, and whether or not they show their true feelings (or if you can recognize the different characters), there is one thing that will really help, and that is being honest and open about the situation. With the COVID-19 crisis do not try to downplay the problems that occur and delude people – your team should be your biggest asset and you should tackle the necessary changes and make adjustments together. Key to this is remembering that what you give is what you get. This means that if you open up about your concerns and worries, you can expect your team to do likewise and share their thoughts – and this is the basis for finding solutions to deal with the pandemic and keeping motivated. Some ideas to strengthen the team spirit and to help the more sensitive staff members to cope better with this stressful situation are as follows:
Introduce daily meetings to update one another and to chat – this may be face to face or can be via apps such as Zoom or Skype (Figure 3).
Share uplifting and funny events that have happened during the day via messenger apps.
Encourage your team to discuss the concerns they have about the situation, so that you can find solutions together.
Give your staff the feeling of being important and useful – people want to be involved, especially at unstable times.
By doing this you can create a "safe space" for you and your team during this critical period. This will enable everyone to retain the energy necessary to maintain good client service, and help prevent people being consumed by fears and worries about what might happen. Try to create a positive vision for the future "after corona" that involves your team and show them the opportunities that this unique, and at the moment very uncomfortable, situation can bring (Figure 4).
Change management
There are many options to adjust your clinic to the pandemic situation in order to keep clients, retain and secure revenue, and maintain a functioning working environment. These include offering services such as telemedicine exams (See also Susie Samuel's paper on this website: "COVID-19: The telemedicine solution".), telephone calls to clients with pets who are chronically ill, home-delivery for medications, and a pet-taxi service. Sit down and think along laterally, asking what can be done to adjust to this situation. Then write down your ideas and slowly and gently prepare the staff for changes. Importantly, do not write a memo assigning people to carry out your ideas – change management is a very sensitive area of leadership, and this is why professional experts are employed to address and oversee a change of direction within international companies. Clearly this is not an option for small businesses, but knowing about the importance of this issue and adjusting the way you communicate with the team is a big step in the right direction.
With the COVID-19 crisis you should not try to downplay problems that occur and delude people – your team should be your biggest asset, and you should tackle the necessary changes and make adjustments together.
Antje Blaettner
Most people do not enjoy adjusting to new working conditions. Therefore the need to disrupt and adapt the daily routine because of the pandemic will be challenging for everyone, and when confronted with change what often happens is that people try to escape from making the planned adjustments:
They will find (often very good) arguments for not following the proposed solutions.
They will turn a deaf ear to alternative requests – although they may say "yes", they mean "no".
They will confront the leader with a clear refusal, openly saying "I won´t do this!"
In between these behaviors there are many shades of opposition, and valuable time may be lost before it becomes apparent that people are not following you. But there is good news; something can be done about this, and the magic word in this context is involvement. This means that instead of choosing the same old top-down approach (by developing new ideas on your own and then telling the team to implement them), try something different: get everyone together, either physically or remotely, introduce the issues that need to be addressed, and then ask them for solutions. If you haven´t done this kind of meeting yet, it may take some time for people to adapt to the process, but the reward is an engaged and motivated team. Additionally, and importantly, solutions that people suggest are normally solutions that they are also prepared to implement and follow.
After this sort of brainstorming meeting there may still be some residual resistance where you as the leader has to apply slight pressure to get things done, but it is a much better method to engage the team and to move things forward efficiently rather than to just delegate or dictate your own ideas.
Staff-related matters
Assuming you want to keep your team intact, it is probably necessary to start thinking about how it may be possible to adjust the workforce – and also reduce costs – without making people redundant (See also Philippe Baralon, Lucile Frayssinet and Pere Mercader's papers on this website: "COVID-19: intensive financial care" and "Financial strategy to recover from COVID-19".), for example:
by reducing their working hours – but without causing financial problems for individuals;
by postponing bonus payments – but in agreement with the employees;
by letting staff take holidays now rather than when the business is fully operational again;
by switching them from things that are not currently important to tasks that you have been meaning to address for a long time, or to develop new services, e.g., video consultations;
by adjusting the staff rota.
Crucial for all staff-related matters is that you are honest and open, and that the entire team is involved when it comes to problem-solving and issue-managing, as discussed above. It is not necessary to disclose all the figures, but it could be a good idea to show the team the general balance of income and costs to give a greater understanding of the situation. Staff members may think that the boss is very wealthy because they only see the daily income, but they often have absolutely no idea of the costs incurred when running a clinic. So being transparent can help to get the message across; "we´re in this together, so let´s see which changes we can make together to keep the business running".
If the crisis affects the clinic to the extent that it will be necessary to let people go, then there is probably no way around it. In some countries government support is available to help reduce payroll costs, so always check the relevant websites, but if there is no support, or it is insufficient, then construct a plan and communicate it with the team. Here are some ideas which may help reduce costs, at least for a period of time:
Check if you can reduce everyone's wages, with the aim of retaining your entire team.
Check which individuals have other sources of income and could manage if they are temporarily laid off.
Of course if wages are withheld from staff, this will have to be settled again in the long run, but reducing costs in agreement with your team can greatly help the business in the short term.
Once the necessary financial data has been gathered and decisions made, then it is time to talk to your people; again it is best to be open and honest, and to involve the team in matters that concern all of them. However discussion about individual financial matters – such as payroll, or other personal issues – should be done one-on-one with the boss and the staff member in a private meeting.
Organizational & strategic matters
The pandemic makes life as a veterinarian much more difficult; daily routines and the organization of tasks are disrupted and we all are challenged to analyze our workflow, to make adjustments and make compromises. The comfort that stems from following well-known processes is gone and instead each day can present new issues to deal with: a shortage of staff and supplies, dramatically less revenue, insecurity as to how long this will be going on, etc. But a crisis can also offer some opportunities, such as stimulating you to make overdue decisions and adjustments for the business. These may be staff-related, strategic or organizational – all things where we would normally think "I'll do this at some point, but right now I'm too busy". If you and your team genuinely do not have time to take stock then do not worry, but if the workload is reduced because less clients are coming through the door, use the time productively to do an in-depth review of how the clinic's workflow is organized. It is also pertinent to start thinking of how to emerge from the crisis and consider what changes and strategic adaptations could be introduced, including new services. This could involve the following points: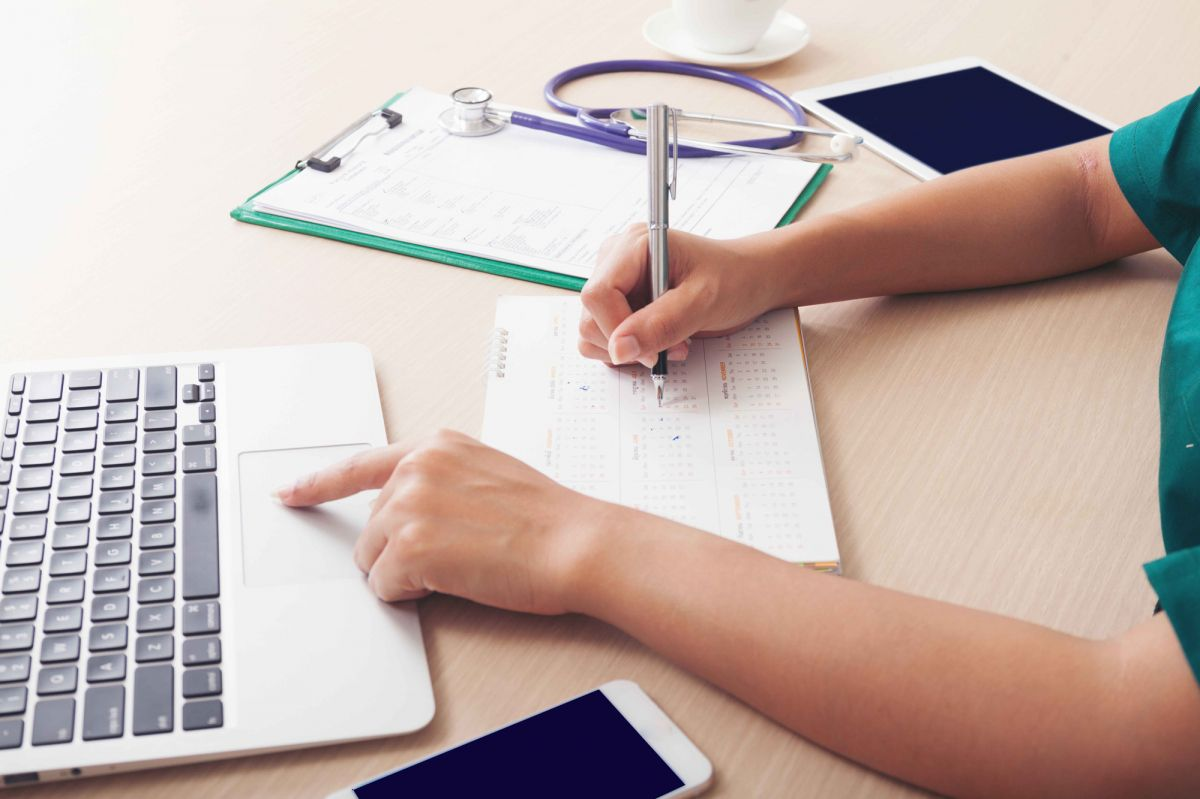 Assess the daily tasks of the various divisions of your clinic, such as telephone service, reception, consultations and treatments, management of drugs and supplies, etc. and determine if the protocols and assigned responsibilities still fit with the actual needs of your business. If not, consider taking the chance to change things now.
Check the quality of customer service in your clinic by using "mystery shoppers" (either by telephone or physical consults); get feedback on your strengths and weaknesses and set up a training program to ensure top-quality service.
Review the practice website and social media accounts; check if the content and information are current, interesting and appropriate for your clients, and if the images are of high quality.
Datamine the practice management system to identify which services, drugs and supplies are in high demand, and which can perhaps be deleted. In this way you and your team can fully focus on the important items and produce a more profitable outcome (Figure 5).
Review the local veterinary landscape and the changes that have occurred in the last 2-3 years. Find out if there is a requirement for certain services – for example, new housing in the locality with young families and pets may mean there is a demand for puppy classes, or if there is a large elderly population nearby with many indoor cats where a house-call service would be welcomed.
Get your team together to do a SWOT exercise: analyze strengths, weaknesses, opportunities and threats. Then create a "to-do" list, prioritize and highlight certain tasks, define deadlines, assign them to people and get them working.
The COVID-19 pandemic is the biggest challenge the world has faced for many decades, and almost no business will be immune from its impact. For each and every veterinary practice it is essential that the team leader is proactive to ensure that priority is given to the safety and wellbeing of everyone, and that good communication is maintained at all times. Careful introduction of revised working methods and an appreciation of the pressure and stress individ
Antje Blättner
Dr. Blättner studied in Berlin and Munich and after graduating in 1988 she set up and ran her own small animal practice. Read more
Other articles in this issue
Financial strategy to recover from COVID-19
Unique problems may require unique solutions, but to survive during the COVID-19 pandemic...
COVID-19: Intensive Financial Care
Key to financial survival during the virus pandemic is having a basic understanding of the economics...
COVID-19: The telemedicine solution
The COVID-19 outbreak has meant that most veterinarians are having to consider telemedicine...
Living with compassion fatigue
Healthy pets need healthy veterinarians, but a caring profession can take a huge toll on the carers...